Fabric 8×10 banners are being used as backdrop banners at the trade shows and conventions held in Las Vegas. These fabric backdrop banners are being placed at the back of trade show booths. So as the people walk by they get to see what marketing message you have printed on your fabric banners. Most of the time the vendors or companies will print pictures of their product lines on the banners. They will then print a brief description of the products as well. The Vegas banners are full color. So you can print as many colors on the Vegas banners as you like. This also includes the banner printing of pictures and images on the banner.
The fabric banners are also being used as step and repeat banners. The casinos and night clubs in Las Vegas will take their logo and alternately repeat them on a backdrop banner. So that when people stand in front of the banner sign. The logos will be visible in the background. Many night clubs use this marketing trick to get a lot of repeat business. So as the people go home or text pictures of their Vegas visit, they see the logos in the pictures. And hopefully will patronize the business in the future when they come to Las Vegas. The step and repeat banners can be many different sizes. The two most popular sizes are the 8×8 step and repeat banner and the 8×10 step and repeat banner.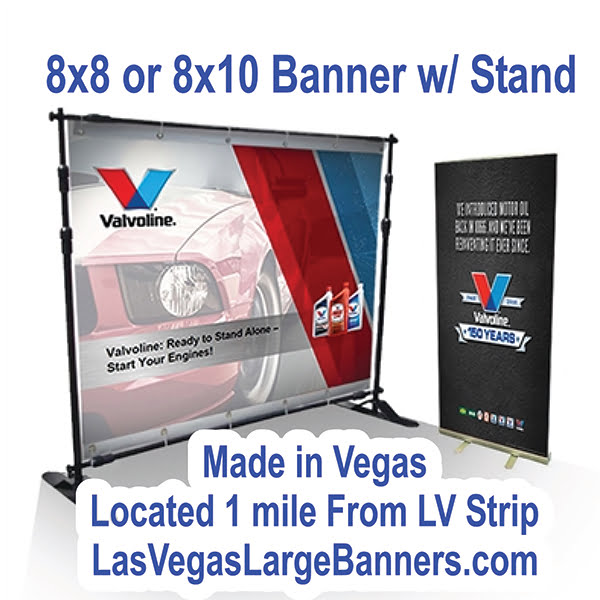 Fabric 8×10 Banners Vegas Can Be Other Sizes
Las Vegas banners are made right here in Las Vegas Nevada. So whether you want a regular vinyl banner sign or a fabric banner, your local Vegas banner shop can get them for you. So just give a call to a sign shop near the convention venues. They are your best bet for cheap and fast service. As these sign shops service he casinos and trade shows.