Economy retractable banner stands are a blessing for the conventions and trade shows. These venues love banner stands as they are easy to set up and take down. Also, the upright banner stands are cheap in price. Economical banner stand printing offers full color graphic prints. So this also includes the printing of pictures and background scenes.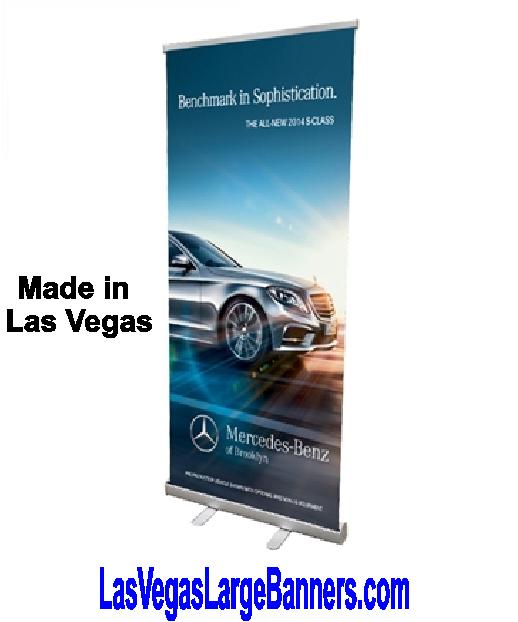 Economy Retractable Banner Stands Are Cheap in Price
These economy banner stands cost about $125.00 for a 33 x 78 banner stand with telescopic pole. The telescopic pole allows for height adjustment. So the banner sign graphic does not have to be 78″ tall. The graphic can be shorter and the telescopic pole adjusts the height. So you can get the perfect fit. The banner graphic can be printed on a 13oz banner material or anti curl banner material. Each material has advantages and disadvantages over the other. Your Las Vegas sign company can assist you in making the right choice.
The economical banner stands offer full color printing. So this allows for as many colors as you want on the banner. In addition, pictures can be printed on the banner graphic. Many companies will print their products on the banner. Also, they will print a picture of the company spokesperson explaining their company on the banner stand.
These stand up banner stands can be printed fast in cases of emergency. So while the normal turnaround is 2-3 days. Same day banner stand printing is available in many cases. Often signs and banners get lost while being shipped to Vegas. In other cases, the signs show up damaged. So Vegas sign shops are aware of this and do everything they can to make your convention experience positive. Many Las Vegas sign stores locate near the convention and trade show venues for fast delivery or pick up.