Discount X banners Vegas can get you that cheap inexpensive banner stand for your event. The X stand banners come with a fold up frame that expands when set up. By attaching the banner on the four corners of the stand it stretches the banner tight. So this makes the banner wrinkle free and keeps it straight. The best part of X stand banner signs is the fact that you can easily replace the banner graphic when you need to. Unlike the pull up banner stand where the graphic is permanently attached.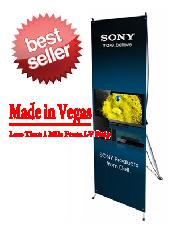 Discount X Banners Vegas Are Used At Events and Exhibitions
Stand up banner stands are very popular at the events and exhibitions in Las Vegas. These X stand banner stands can be placed anywhere. Because they are self standing and self supporting. This makes the banner stand very portable. So this also allows for a easy set up. Best of all these banner stands can be used over and over again. The banner graphic can be replaced and you can still use the old banner stand frame.
X stand banners come in two most popular sizes. The 24×63 X stand banners and the 32×72 X stand banners. Both these banner stands come with a carrying case to make for easy transportation of your banner sign. The banner graphics can be printed on 13 ounce vinyl banner material or a smooth anti curl banner material. The banner signs can be printed in full color.
Same day X stand banners are also a possibility in Las Vegas. Many times people coming into Las Vegas for the events and shows forget their sign graphics back home. or the signs are shipped to Las Vegas and do not arrive in time or come damaged. If this is the case there are a few sign shops that can print your signs same day.