Discount retractable banner stands Vegas will get you cheap priced banner stands for your event or show. Many companies come into Las Vegas for the different events and shows. So their signage is geared towards that particular event. The signs and banners made for the show are tossed in the trash after the event. So why pay top dollar for signs and banners if this is the case. Cheap signs and Las Vegas banners are available for print in Vegas by Vegas sign shops that service the trade shows and conventions.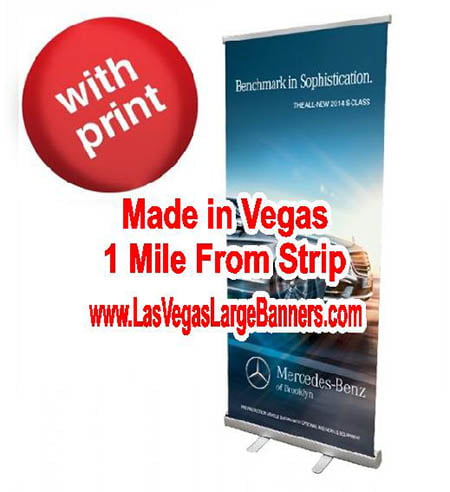 Discount Retractable Banner Stands Vegas Are Cheap in Price
Standing banner stands are one of the most popular graphics at events and shows in Vegas. This is partly because the retractable banner stands are self standing. So the standing retractable banner stands can be placed anywhere because they stand alone. This makes them very portable. The set up time is only a minute or so. The pullup banner stands all come with a carrying case. So this makes it easy to use and transport event to event.
The standard size of the industry is the 33×78 retractable banner stand. This banner stand sign has about 17 square feet of printable space. So this can be printed in any color along with having pictures printed on your sign stand graphic.. The rollup banner stands come in many sizes to meet your advertising needs. This 33 x 78 banner stand sells with print for about $135.00 in Las Vegas. Another popular banner stand size is the 45″ wide by 78″ tall sign. This banner stand sells for under $140.00.
Conclusion
Same day retractable banner stand printing is available at many Las Vegas sign shops. These Vegas sign shops have their own sign printers and are capable of fulfilling rush order sign requests. Banner stand printing in full color with pictures and images is standard. You can also buy retractable banner hardware only.