Custom trade show signs are needed for the many trade show events held in Las Vegas Nevada. Every year there are hundreds of these trade shows and events occurring in Southern Nevada. Some of these events are small and only require a small event venue. But some of these events are very large. One of the shows that start the trade show season in Las Vegas is the world famous SEMA show. This event annually brings over 100,000 people from around the world. The Sema show only lasts about 4 days and is held at the Las Vegas Convention Center. The LVCC is about three million square feet and is one of the biggest venues in the world. Many SEMA signs and SEMA banners are needed for this show alone.
The trade shows and conventions bring millions of people each year to Las Vegas. Thousands of companies and vendors display the newest products and technology at these events. So putting their best face on, they require many trade show signs. Some of these signs will only be used for the one event and then thrown away. So companies do not want to spend a lot of money on signs that are only going to be used for a few days.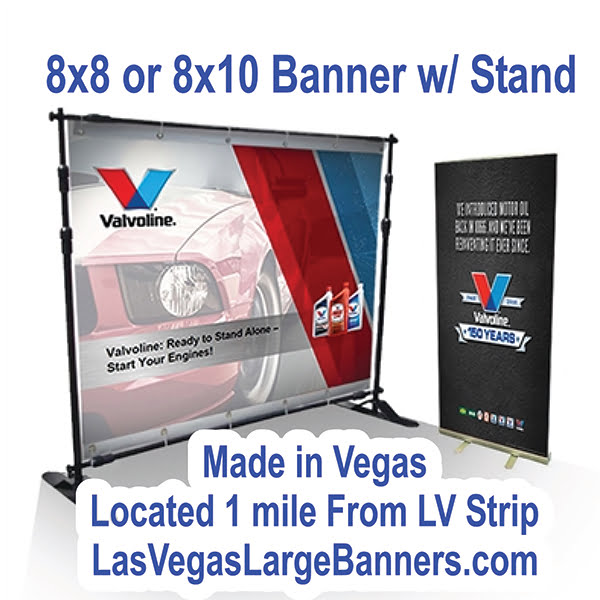 What Are The Top Custom Trade Show Signs ?
Vinyl Banners are very popular at the trade shows and conventions. These vinyl banners can be made to any size and can be printed in many colors. Pictures and logos can also be printed on them. Backdrop banners are popular because businesses can display them in the back of their display booths. So as the attendees are walking by, they can easily determine what products you are promoting. If they are interested, the sales team can refer to the banner during the sales speech. Businesses will print their company name on these backdrop banners and print pictures of their products.
Roll Up Banner Stands are a favorite of the displaying companies at the event centers. These portable pull up banner stands can be placed anywhere. As they are self standing. They are easy to move around which gives them great versatility. The banner stands come in economy and premium models to meet your marketing needs. These pull up banners also come in many sizes. As sign sizes are always a consideration in event booths due to room availability.
Backdrop Displays are increasing in popularity. These trade show backdrop displays come in a kit. The popular sizes are 8ft wide backdrop displays and 10ft wide backdrop displays. The trade show displays come in a kit with carrying case. You can set these signs up yourself rather than hire expensive union labor.
Other Popular Trade Show Signage
Custom Table Cloth Signs are great for covering tables at the events. These table cover signs usually come in the 6ft or 8ft sizes. ( The most common table sizes for events ) These signs come in any color and most companies print their company name or logos on them. it is a great sign to help brand your company name.
PVC Signs or Sintra Signs make great interior signage that can be attached to the display booth walls.
Vinyl Printing is great for adhesive stickers that can be applied to the trade show booth sign walls. Many businesses will place these adhesive prints on their walls. So they are similar to custom wallpaper signage.
Sign Posters are very affordable type signs used at events. These posters are printed on a heavy 8 or 9 mil paper in full color. The poster signs are suitable for indoor or outdoor use because of the special inks used to print them.
Designing Trade Show Signs
The key to a great trade show sign is in the designing. There are many aspects to designing a captivating sign that will garnish attention at your event. We are going to discuss a few of the elements of a successful sign.
Top quality pictures are a must when designing a sign. Many of these trade show signs will be looked at up close. You need to use quality images that reflect the professionalism of your products and company. These signs also help brand your business.
Using vibrant and bold colors will differentiate your signs from other trade show signage. Attendees are tired after walking around all day and talking to people. By using vibrant colors, you will draw their attention to your signage. As they are looking at your signage, it gives you a great opportunity to give them a sales speech about your products.
Using easy to read fonts and simple text go a long way in helping attendees at trade show events understand your signage. Attendees are tired and need simple messaging to help them understand exactly what your are promoting. Printing your signs in two languages might also help if you are marketing to different cultures. If you are in a event with lots of German people, printing one side of the sign in English and the other side in German might be advantageous. So this way everybody can understand your marketing signage. They make double sided foam board signs and double sided retractable banner stands for this reason.
Spacing is important on the trade show sign. The spacing of text and images on your signs will make it easier to read.
Conclusion
Businesses and vendors like to order their trade show signage through Las Vegas sign companies. This ensures the signs will be ready when they arrive in Las Vegas for their show. Many times the shipping services they rely upon show up late or damaged. So in these cases, the signs and Las Vegas banners have to be replaced quickly. So that the show can go on as scheduled. The ordering of the signs from a local sign store also allows the saving of money. Because shipping packages has gone up in pricing in the last few years. Contact a local Vegas sign store for more information on trade show signage.