Custom standing banners Vegas is a good search term when you are looking for retractable standup banners. These standing banner stands are great for the trade shows and conventions. So with hundreds of events and shows held annually in Las Vegas many signs and banners are needed. These signs and banners help sell the products that hundreds of vendors and companies display at these events.
So pull up retractable standing banners are self standing signs. They can be placed anywhere in your display booth and moved around quite easily. The set up time for a retractable banner stand display is only about one minute. This quick set up and portability makes these standing banner stands a favorite.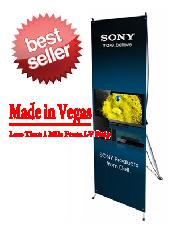 Custom Standing Banners Vegas Come in Many Sizes
The most popular retractable standing banner stand is the 33×78 model. So this model banner stand sign offers approx 17 square feet of space to print your advertisement. The print can be any combination of colors and also have pictures printed on it. So the standup banner stand come with a carrying case that makes it easy to travel with. This model sells for around $125.00 and just takes a day or so to print and assemble. The 24×63 X stand standing banner also is a popular choice for vendors and companies. This model X stand banner offers about 10 feet of printable space. So it also comes with a carrying case to make transportation easy.
Standing banner stands come in more sizes as well. You can get them wider and taller in the different models.
Same day custom standing retractable banner stands are possible. Many Las Vegas sign banner stand stores offer same day printing for emergencies. An order can be taken in during the morning hours and be ready for afternoon pick up or delivery. The sign shops near the event venues have this capability.