Custom roll up banners are prevalent at the many events and shows conducted in Las Vegas Nevada. These roll up banner stands are visually appealing and get the attendees attention. After all, getting the attention of people at the various trade shows in Las Vegas is very important. iI gives you the opportunity to speak with clients about your products and company. So that is the purpose of displaying at a convention or trade show.
The retractable banner stands need several elements to garnish attention.
The pull up banner stands need to be visually appealing to get attention. Top quality pictures need to be used to represent your products and services. These banner stands reflect you company. Clear and concise text needs to be used to convey your message. The attendees at these events get tired after awhile and need to be able to easily read your trade show signs.
The roll up banner stands need to be able to disseminate information to clients effectively. Using brand logos and brand colors will help your marketing scheme. The use of QR codes also helps disseminate information to clients. As many clients are high tech type people and like to use that type of information.
Affordability of Banner stands. The banner stands need to be low cost. Many times the trade show signs are used for a single event and then thrown away. So why spend a lot of money on retractable banner stands if you do not need to. If the retractable banners are going to be used at multiple events. Maybe the purchase of a premium banner stand might be in order.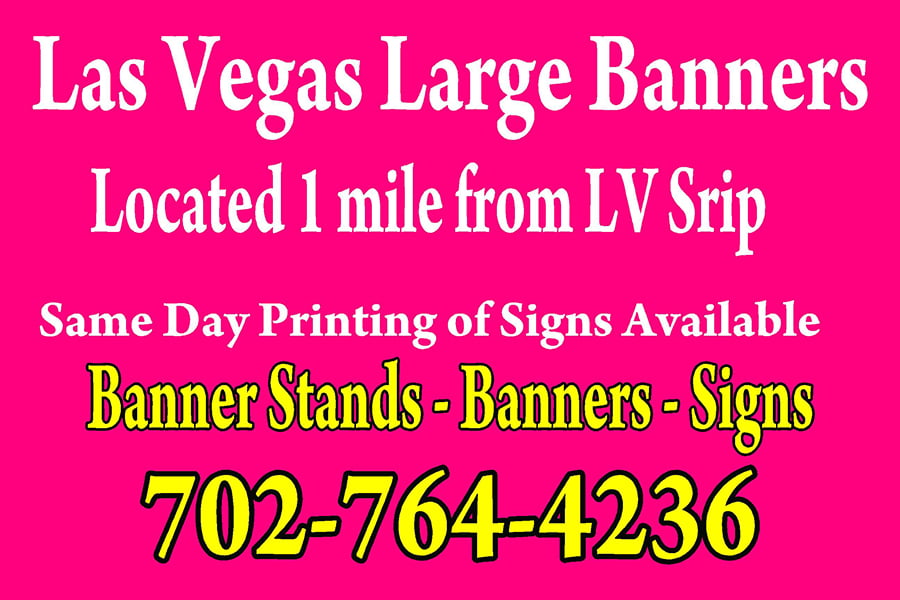 Custom Roll Up Banners Can Be Printed Fast
So many of the local Las Vegas sign companies have state of the art sign printers. These banner printing machines can print signs and banners faster than ever before. So they are also printed in higher quality than ever before. The inks are environmentally friendly and long lasting. They are designed to bring out the bold and vibrant colors of your signs and Las Vegas banners. Same day banners and same day signs are a possibility with these sign shops. The sign companies near the convention and trade show venues tend to have the latest sign making equipment. but be careful of sign brokers who own no sign making equipment and rely upon legitimate sign shops. Yelp or Google reviews can help you determine the quality and reputation of the sign shop you choose.