Convention banner stand printing Vegas can get you those portable banner stands for your trade show or convention. There are hundreds of shows and exhibitions in Las Vegas every year. So these shows and events require lots of signage. Las Vegas banner stands and backdrop banners are really popular at these events.
So the portable banner stands are popular because they can be easily moved around. These convention banner stands require no support because they are self standing. So this allows the signs to be placed anywhere in the event display booth. The convention banner displays are full color and can have pictures and images printed on them in any color. The banner stands come in a multitude of sizes to meet your marketing needs.
Convention banner stands come in economy and deluxe versions. Many vendors and companies come into Las Vegas for an event and then throw away their sign graphics. After the event is over they simply toss the graphics away instead of shipping them back home. Many times the signs and banners are designed for a special show. The signs would not work at another event in a different city.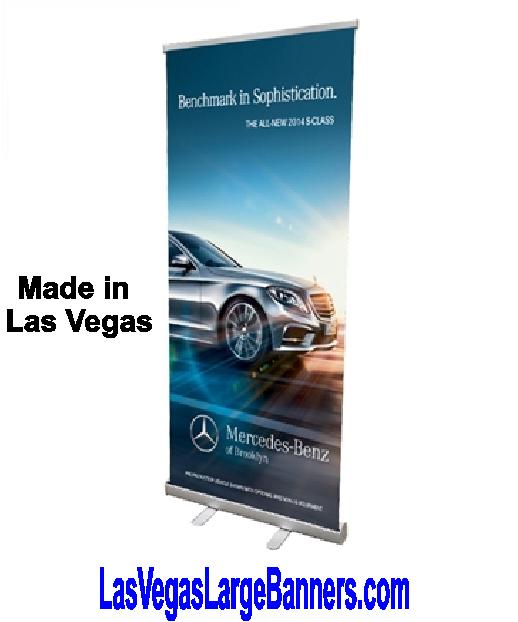 Same Day Convention Banner Stand Printing Vegas
Same day banner stand printing is available at many Las Vegas sign companies. The sign shops capable of same day printing have newer printers that print fast and with high quality. These sign shops are located near Las Vegas Blvd. So there is easy access to pick up or deliver signage. It makes no sendse to have to travel a half hour for a sign instead of 5 minutes. One such company Las Vegas Large Banners is located less than 1 mile from the Las Vegas strip. So they have easy access for pick up or can have your same day signs delivered to your venue or hotel.