Cheap X stand banners are available in Las Vegas at great prices. These banner stand signs are in big demand at the many events and shows held in Vegas. All shows and venues are looking for cheap signage for an event. Many times the banner stands need to be proprietary for the event and these X stand signs are perfect. They are inexpensive in price and very easy to set up. The X stand banner signs can be very portable. As they are easy to move around and are self standing. Which basically allows them to be placed anywhere.
The event venues like Las Vegas Convention Center will use these x stand banner signs for directional signage. Since the banner graphic is reusable, they will simply change out the banner for the next event. Since they already have the sign hardware.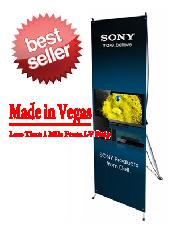 How Cheap are X Stand Banners ?
The X banner signs can be made quickly. The banner stands are incredibly easy to set up and take less than one minute. The 24″ x 63″ banner stand costs $69.00. The 32″ x 73″ X stand sign costs around $79.00. Both stands have a X stand frame that holds the banner graphic by the corners. The banners can be changed out very quickly. So the x stand can be saved and only the banner graphic purchased for the next event. Many vendors and companies prefer these types of banner stands versus the traditional roll up banner stand.
Local Las Vegas sign stores catering to the conventions and trade shows carry these X stand banners in stock. They sell fast and many sign shops can offer same day X stand Banner printing. So sign shops realize that things go wrong at convention venues and graphics get lost or damaged. So the banners and signs need to be reprinted fast and with the highest quality so that the show can go on as planned.
Conclusion
These Vegas sign shops are generally located close to the event centers for fast pick up or delivery. Uber or Lyft also offer a low cost approach to obtaining delivery of your graphics. Or the sign company can arrange delivery of the event signs to your hotel or event venue. So look for a Vegas sign store close to the Las Vegas strip to assist you in getting your same day signs and banners. As they tend to have the latest sign printers and sign making equipment.