Cheap standing banners Vegas make for great signage at conventions and exhibitions. These rollup vertical banner stands are self standing. So they require no support when displayed. Also when not fully extended, they are very compact. When fully extended and set up, the 33×80 banner stand has about 18 square feet of printable space to advertise your products. That is a lot of advertising space. The fact that the pull up banner stands can be set up anywhere and be so large gives them an advantage among signage.
These retractable rollup banner stands also come in a variety of sizes to meet your marketing needs. One of the most popular retractable banner stand signs is the 33×78 banner stand that sells for around $125.00, All these pull up banner stands come with stand, print and carrying case. The print is full color and can have pictures printed on it as well.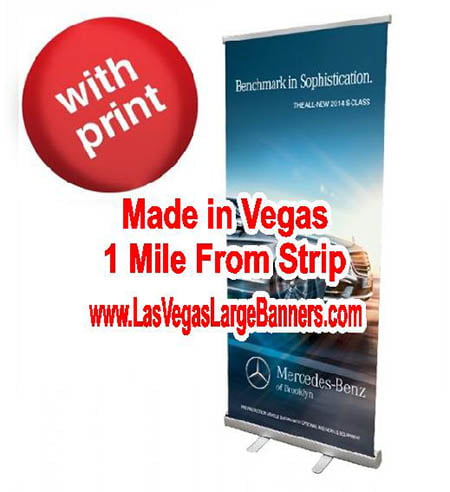 Cheap Standing Banners Vegas Can Be Printed The Same Day
Rush same day retractable banner stand printing is available through certain sign stores in Las Vegas. These sign shops service the exhibitions and convention venues. And can be found easily by doing a search for nearby sign stores. So these Las Vegas banner stand sign shops locate near the convention venues so that the can be found easily. Also because it makes it easier to deliver or pick up the signs. Time is of the essence and same day retractable banner stands need to be made and delivered quickly. So that the event can go on as scheduled.
The same day standing signs can be made partially because modern printers can print so very fast. These modern day printers are great for speed printing along with the highest quality. Contact a sign store today for more information about same day retractable banner signs.