Cheap rollup banners Vegas are great for the Vegas conventions and trade shows. Many companies come into Las Vegas to display their goods at the shows. So they need Las Vegas banner stands to show off their products. These cheap retractable banner stands are generally for one show only and then tossed away. So the companies need cheap signs and banners. However they also want quality. And these roll up banner stands have lots of quality. There are hundreds of trade shows and conventions held in Vegas annually. Vendors and companies displaying at these events want fast cheap sign graphics.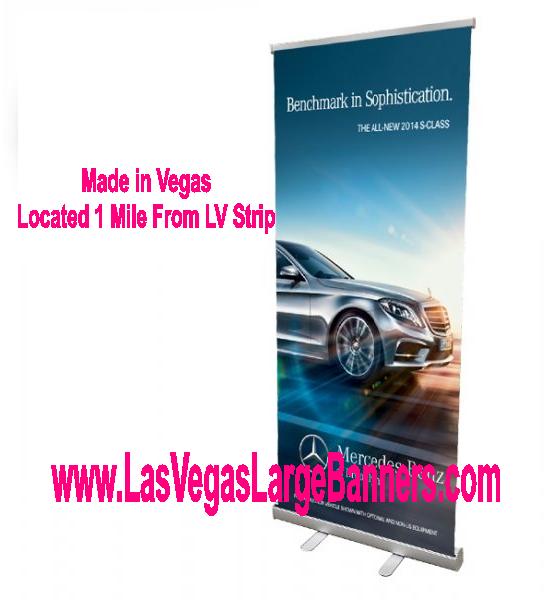 Cheap Rollup Banners Vegas Come In Lots Of Sizes
The most popular pullup banner stand is the 33″ x 78″ retractable banner stand. This favorite rollup banner stand comes with a telescopic pole for height adjustment. So this pole allows for height adjustment so that you get the perfect fit. This retractable banner stand also comes in a deluxe version as well with a large chrome base that is most impressive. So other popular sizes are the 45″ x 78″ tall banner stand and the 36″ x 92″ deluxe banner stand.
So all the Las Vegas banner stands come with a carrying case and full color print. This means you can have as many colors printed on the banner graphic as you like. In addition pictures and images can also be printed on your graphic. The banner graphic can be printed on a anti curl smooth banner material. Or on regular 13 ounce vinyl banner. The key to getting attention for your trade show signs is using bold and vibrant colors. These bold colors attract people's attention and will get them walking over to your display booth.
Conclusion
Same day rollup banner stand printing is also available in many cases. Vegas sign stores realize that graphics get lost or damaged and need replacing quickly. There are a few sign stores capable of this and they are generally located near the Las Vegas strip and convention venues. So give them a call today and get your replacement signs and banners fast and at a low price.