Cheap retractable banners Vegas are used at the events and shows in Las Vegas. Cheap banner stands are great for one time usage at the convention and trade show venues. These banner stands will last many times. But many times vendors and companies come to Las Vegas to display their goods and services. These companies only need the stand for one show and then they are thrown away. These vendors and companies need fast banner stand printing and low priced banner stand signs.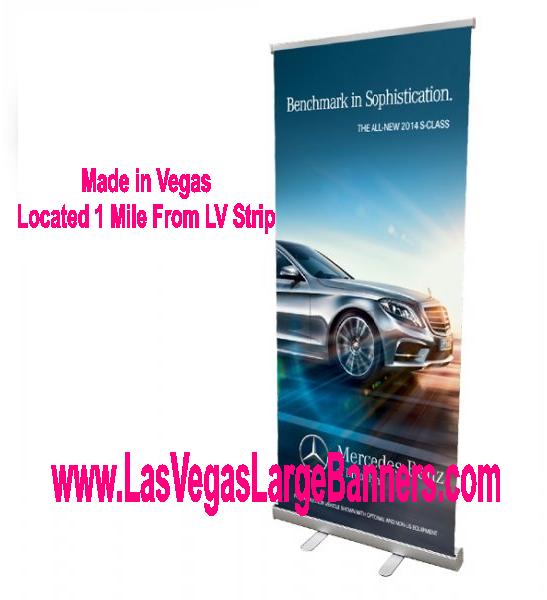 Cheap Retractable Banners Vegas Come in Many Sizes
One of the most popular medium sized retractable banner stands is the 33×78 model. This retractable banner has almost 17square feet of printable space when fully extended. it also comes with a telescopic pole for height adjustment of the banner graphic. So this allows for the perfect fit. While most banner stands have a tent pole system for support that requires a bleed. The telescopic pole adjusts to the height of the banner. So this rollup banner stand comes with full color print and carrying case. The carrying case allows you to easily transport the compact retractable banner stand from event to event. The banner stand sign sells for $125.00.
So vertical banner stands come in many sizes to meet your marketing expectations. They come in wide widths and in extra tall sizes. All the banner stands come with a full color print that allows for pictures and logos to be printed on the banner graphic. The banner graphics can be printed on a 13 ounce vinyl banner material. Or they can be printed on a smooth anti curl banner that looks very professional. Your local banner stand sign store will have more information about this. Also, same day banner stand printing is available for rush orders.