Cheap retractable banner stand Vegas is a great search term to find affordable banner stand printing in Las Vegas. Las Vegas is the king of conventions in the United States. More conventions and trade show occur annually in Las Vegas than any other place. While Las Vegas Nevada is known for adult entertainment, we are also the best place to hold a convention. Las Vegas has three very large convention venues that have well over one million square feet of floor space. So these convention venues are so large that they can actually hold several conventions at the same time. The Las Vegas Convention Center, Mandalay Bay Convention Center and the Sands Expo. The biggest conventions in the world like the Consumer Electronic Show and Sema are held in Vegas.
So many Las Vegas banner stands are needed for these events. These pull up banner signs or roll up banners are self standing and can be placed anywhere in a display booth. The banner stands come in many sizes to meet your needs. So these sizes range from about 2ft wide to around 5 ft wide. The most common banner stand is the economy banner stand that is 33″ wide by 78″ tall. This tradeshow banner stand comes with print graphic, hardware and a convenient carrying case. The banner stands are easy to set up as well. So you can simply walk into a event venue and set up a banner stand in a bout a minute or so.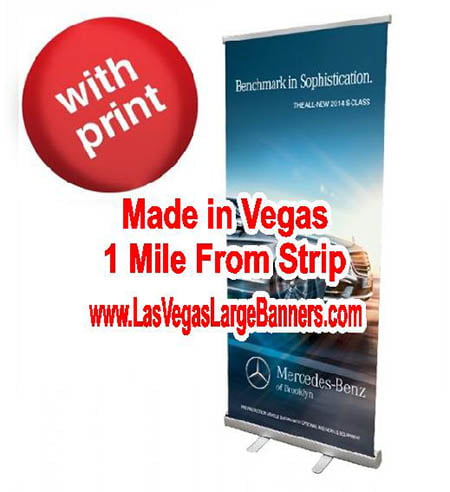 Cheap Retractable Banner Stand Vegas Can Be Made The Same Day
So often companies coming into Las Vegas for an event will forget to bring there signs and banners. Or maybe the shipping company they trusted didn't deliver the signs or the signs show up damaged. In these cases, the signs have to be made for the show to go on. Many Las Vegas sign companies can offer rush order signs.