Cheap popup banners Vegas are great for the trade shows in Las Vegas. So retractable popup banners are one of the most commonly used types of signs at events. Companies and vendors like the fact that popup banner stands are portable and can be set up anywhere. So in fact they are self standing and require no support for display. The banner stands are compact . But when fully displayed they are quite large. The common 33×78 popup banner stand has roughly 17 square feet of printable space on the graphic. So this graphic can be a full color graphic. That means the banner sign can be printed with as many colors as you like.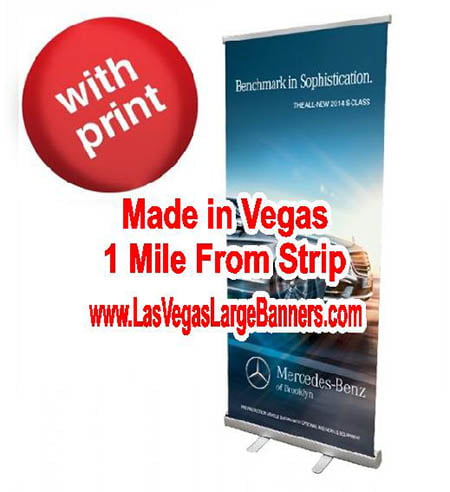 Cheap Popup Banners Vegas Are Great For Vegas Conventions
Vendors and companies displaying their products at conventions in Vegas love these popup banner stands. The stands come in many sizes ranging from around 33″ wide to around 45″ wide. So they also come in different heights. All come with a full color graphic print and carrying case. So in addition they come with a telescopic height adjustment pole which allows you to adjust the height of the graphic. This makes for a perfect fit of your graphic on the banner stand.
Same day popup banner stands and rush order popup banner stands are possible. There are a few Las Vegas banner stand stores that offer same day sign printing. These banner shops are located near the event venues for speedy pick up and delivery of signs. These sign shops have modern large format printers capable of printing at very fast speeds. So the quality of these sign printers has never been greater. Uber or Lyft offer pick up and delivery of signs as well. Since these same day sign printers are close to the event venues the cost of a Uber or Lyft is nominal.