Cheap banner stands Vegas are great for the many events that occur in Las Vegas. Retractable banner stands are one of the most popular signs that are used at the many events. So with hundreds of conventions and trade shows happening yearly in Las Vegas. This amounts to hundreds of standup banner stands being printed locally in Las Vegas. The vendors and companies like to have these types of graphics printed locally. So many times during the shipping process the banner stands will get lost or damaged. And the banner stands have to be printed in Vegas anyways. It is quite common for same day sign printing in Vegas. After all, the show must go on as planned.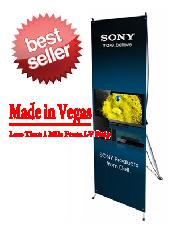 Cheap Banner Stands Vegas Come in Different Models
The most popular retractable banner stand is the 33×78 adjustable banner stand. This retractable banner stand measures 33″ wide by 78″ tall. So this equates to around 17 square feet of printable space. This printed graphic can be any color or combination of colors. So pictures and other images can be printed on the banner stand graphic. This pull up banner stand costs around $125.00 and can be made in just a day or two. Same day banner stand printing Vegas is also available for emergency cases. So other popular stand up banner stands are the 33×80 deluxe banner stand and the 45×78 retractable banner stand.
Using vibrant colors and vivid colors will help people notice your banner stands. Clear and crisp pictures will help sell your marketing.
Conclusion
Your Las Vegas sign store will have more information about these cheap banner stand signs. These discount sign stores are generally located near the event and show venues. So this allows for easy access for pick up or delivery of your signs and banners. These sign stores have state of the art printers that can print your banners and signs fast. Also these fast sign printers can print with the highest quality.