Las Vegas retractable banner stands are popular at conventions. As a result, pull up banner stands are in demand. The roll up banner stands are self standing. As a result, the banner stands can be placed anywhere which makes them a very convenient and popular sign.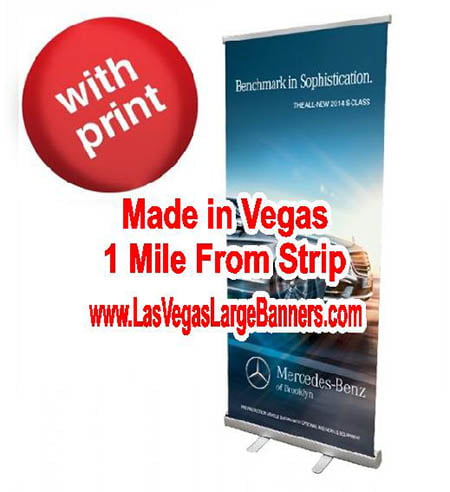 Las Vegas Retractable Banner Stands Come in Many Sizes.
Las Vegas retractable banner stands are made in a variety of sizes. The most popular pull up banner stand is the 33″ wide x 78″ tall banner stand. The banner stand has a telescopic pole that allows for height adjustment. So, the banner design does not necessarily have to be 78″ tall. So the banner design can be less and the adjustable banner stand will conform to the new height.
Banner stands come in many sizes ranging from around 24″ wide to around 45″ wide with varying heights. The deluxe retractable banner stands have a wide chrome base. All the banner stands have an adjustable telescopic height adjustment pole.So they get the right fit. No bleed is required. As a result, the design is made right to specs.
All Vegas banner stands come with a carry case for easy transport. The banner stands can be used multiple times. Set up of the banner stand is easy. As a result, in about a minute, the stand can be taken out of its carry case and set up.
Same Day Las Vegas retractable banners are possible. In many cases, vendors coming into Las Vegas end up with lost or damaged graphics. So, the banner stands need to be replaced fast. Rush order retractable banner stands are common in Vegas. Select a sign shop in Vegas that is close to the convention venue for fast turnaround. Uber or Lyft can pick up the banner signs and deliver them to your location. Other delivery options are available as well.