Best Las Vegas banner stands are made with quality at a reasonable price. Retractable banner stands are one of the most popular signs at trade shows and events in the Las Vegas area. Las Vegas is famous for all the conventions and trade shows. Recently Las Vegas is expanding out and hosting high quality Hollywood premieres and award events. So at these events, many signs and banners are needed.
The roll up banner stands are particularly desired. Because the banner stands are self standing. So they require no support or attaching to be displayed. So this makes the upright banner stands very portable. Also add in the fact that set up is very easy, it makes them a very popular graphic.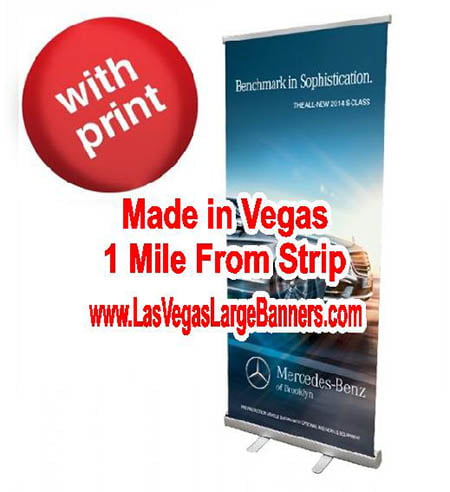 Best Las Vegas Banner Stands Come in Many Sizes
The most popular roll up banner stand is the 33×78 model. So this banner sign graphic has almost 17 square feet of printable space. This graphic can be full color and have pictures and images printed on it. So full color means you can have one or as many colors or combination of colors printed on the banner. Solvent inks are used in the printing process that makes your designs bright and vivid. The solvent inks are environmentally friendly and ecologically sound. So the 33×78 retractable banner stand is the most economical stand priced at $125.00.
Many other retractable banner stands are available ranging from about 33″ wide to around 57″ wide. So also with different heights to meet your marketing needs. The 33″ x 80″ tall has a wide deluxe base that is most impressive looking.
Las Vegas has many sign shops that can print and assemble these banner stands for you. They are generally located near the convention venues and Las Vegas strip. So this allows for easy and fast access.