Banner stands tomorrow are available in Las Vegas at many sign stores. These sign stores are generally located near the convention venues. As these sign shops tend to have the latest and best sign printing equipment. These sign shops also carry many retractable banner stands in stock for multiple orders. It seems that banner stands get lost or damaged all the time for events held in Las Vegas. Very often the pull up banners are left back home and forgotten. Sometimes the shipping companies entrusted to deliver the signs do not deliver on time.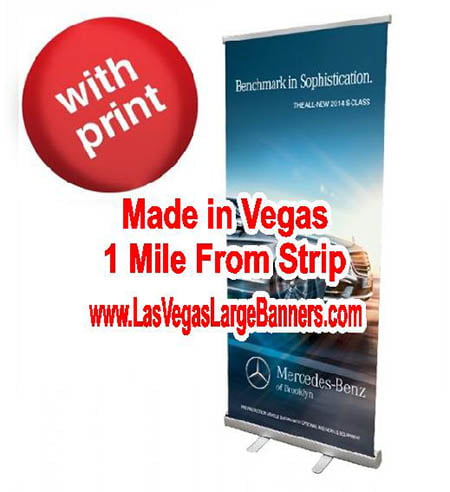 Many Types of Banner Stands Tomorrow Are Available
The best selling roll up banner stand is the 33×78 model. This sign is 33″ wide by 78″ tall. The banner graphic retracts into a stand and comes with a carrying case. The banner sign is minimal in size when rolled into the stand. Banner stand offers a full color banner graphic. So all colors can be printed on the sign along with pictures and logos. Vegas banner stand sells for $125.00 and can be printed and assembled fairly quickly.
The deluxe version of the sign is 33″ wide by 80″ tall. It comes with a wide chrome base that is very professional looking. Other sizes that can be made are the 45×78 banner stand, 36×92 banner stand and X stand banners. All these portable banner displays are kept in stock. The banner graphics can be printed on standard banner material or a wrinkle free polyurethane material. So all banner stands come with a carrying case to make easy transport. The portable banner displays are easy to set up and take only about one minute.
So contact your local banner stand sign store today about these very impressive and low cost signage. So they will help you market your goods and services very well at the many event venues in Vegas.