Banner stands sign printing can get you those retractable banner stands for your event or show. There are literally hundreds of events that take place in Las Vegas every single year. These events attract thousands of vendors and businesses presenting their goods and services. So millions of people who want to learn about the newest products attend these events. Las Vegas is a major destination in the world for tradeshows and conventions.
So there are three very large event venues built in Vegas. The Las Vegas Convention Center is the biggest at over three million square feet of space. The other two venues, Mandalay Bay Convention Center and Venetian Convention Center have over one million square feet of floor space. These Venues are so large that they can actually have multiple events taking place at the same time. So many trade show banners and trade show signs are needed for all these venues. The banner stand signs are one of the most popular of the trade show signs. In fact, the event facilities will use retractable banner stands as directional signage to help guide people where to go.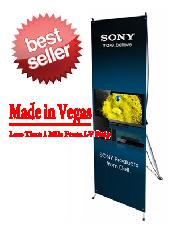 Banner Stands Sign Printing Can Make Many Different Types of Convention Banner Stands.
The pull up banners come in many different sizes. There is the popular 33×78 retractable roll up banner stand that sells for about $125.00. So this roll up banner comes with all hardware, carrying case and full color banner graphic. The full color graphic means you can print multiple colors on the banner along with pictures and images. The deluxe version of this banner stand is the 33×80 roll up banner stand that has a wide chrome base. So other sizes available include the 45×78 banner stand, 36 x 92 banner stand and the 57×78 banner stand.