Vegas Trade Show 8ft banner displays are great signage for the display booths at your trade show or convention. These 8ft backdrop displays can fit at the back of your display booth to grab the attention of the people walking by.So they can also be placed at the front of the display booth to get attention and then get the people to step inside your display booth for your sales people to do there thing. The most important aspect is that these large tradeshow backdrop displays get the attention of the people so you can promote your products.
Las Vegas convention 8ft backdrop displays come in packages. You can buy a 8ft straight tradeshow display or a 8ft tradeshow Sign display curved. The kit comes with a full color graphic print, hardware and carrying case. The full color graphic print means you can have as many colors printed on your fabric display as you like. So this includes images and pictures. The fabric banner allows for a wrinkle free appearance. The carrying case allows for easy transportation of your tradeshow display. So you can simply carry it into a convention venue and set it up without the use or need of expensive union labor. The tradeshow banner display signs are easy to set up in a few minutes.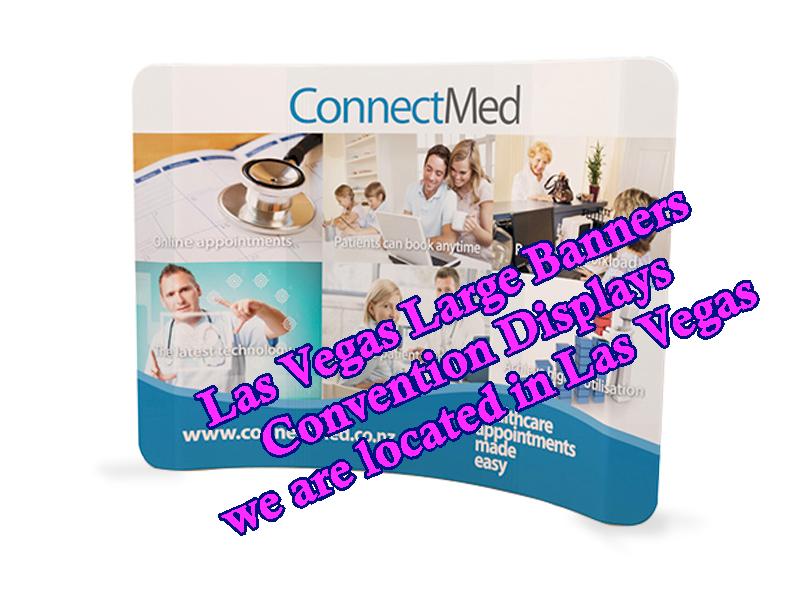 Vegas Trade Show 8ft Banner Displays Are Not Expensive
The Las Vegas trade show banner backdrop displays are not expensive. The 8ft and 10ft versions cost less than $600 and can be used multiple times. Also the fabric banner can just be replaced with another if you want to change your marketing message. This will save you a lot of money for paying for additional hardware if you just need another banner. Contact your local Vegas trade show sign printer for additional information.