Banner stand signs Las Vegas are being used at the Las Vegas Convention Center. These roll up banner stands are portable and easy to move around. The banner stand signs are self standing. So that means they can be placed anywhere without any type of support to be displayed. So this makes them a crowd favorite. As room in a tradeshow display booth is tight.
The Las Vegas banner stands come in many different varieties to meet your advertising needs. The sizes generally range from about 2 feet wide to around 5 feet wide and about 80″ high. Some of the banner stands in the deluxe models go all the way to about 92″ tall. That is almost 8 ft. tall. The banner stands all come with full color graphics. So that means you can print pictures on the graphics along with any amount of colors. The most common banner stand is the 33×78 retractable banner stand that has about 17 square feet of printing space. So that is a lot of space to print your marketing message. The 33×78 banner stand sells for around $125.00.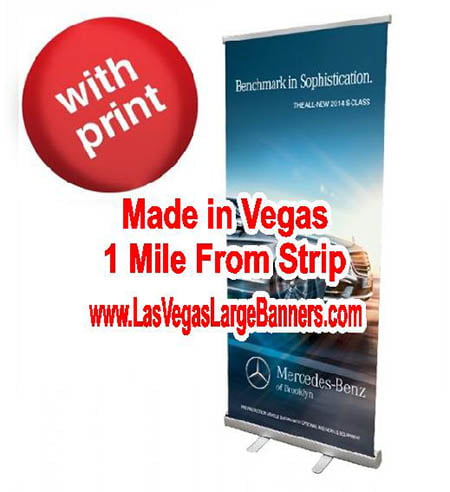 Same Day Banner Stand Signs Las Vegas Are Available.
Many times companies and vendors ship their banners and signs into Las Vegas for the tradeshows and conventions. Unfortunately sometimes the signs and banners do not show up on time or show up damaged. So in these cases, the tradeshow signs need to be replaced quickly so that the show can go on as planned. Las Vegas has many sign shops with modern sign printers capable of printing very fast with the highest quality. So rush order signs and same day signs are usually not a problem.
Your local sign company in Las Vegas will be more than happy to assist you with your convention and tradeshow needs.