Affordable retractable banners Vegas will get you a cost effective banner stand. So Las Vegas retractable banner stands are very popular at events and shows in Vegas. Because these banner stands are self standing and require no support. Since they can be placed anywhere it makes them a very convenient and portable sign.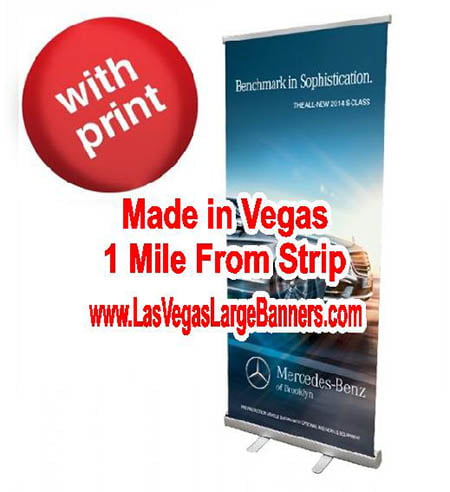 Affordable Retractable Banners Vegas Are Used A Lot At Convention Venues
So companies and vendors displaying at convention venues like portable vertical banner stands because they can be placed anywhere in their booths. There portability is a major plus. Many times the companies will take one very large graphic and cut it up into three sections. These graphics are then placed on banner stands. So then the banner stands are placed next to each other. So as to look like a single large graphic. This sign set up with banner stands is called a banner stand wall.
Retractable banner stands all come with a full color print. This means you can print a single or multiple colors on your graphic. The graphic can also have pictures printed on them as well. All the pull up banner stands come with a carrying case to make easy transportation. The graphics are printed on a 13 ounce vinyl banner material or a anti curl banner material. The anti curl banner material is very smooth and prints very professionally. The 13 ounce vinyl banner material prints well but does not look as professional as one printed on anti curl. The anti curl material is not forgiving. So once damaged or kinked, it stays that way.
Banner stands can be found at local Las Vegas banner stores at very good pricing. There are many sign models to choose from. Same day retractable banner printing is also available in many cases of emergency.