Affordable retractable banner printing Vegas is great for the many conventions and trade shows held in Las Vegas. Every year millions of people flock to Las Vegas for these events. So they can see the newest products and gadgetry from around the world. Thousands of companies and vendors display at these events in hopes of winning new customers. So at these events thousands of banners and signs are needed to help persuade customers about their products.
Retractable banner stands are one of the most popular type of signage at these events. The banner stands are cheap in price and can be made fairly quickly. So the banner stands are also self standing. Which allows them to be placed anywhere in your display booth. In addition they are very easy to set up. So these retractable standup banner stands also come with a convenient carrying case which allows you to walk into an event venue or show with them.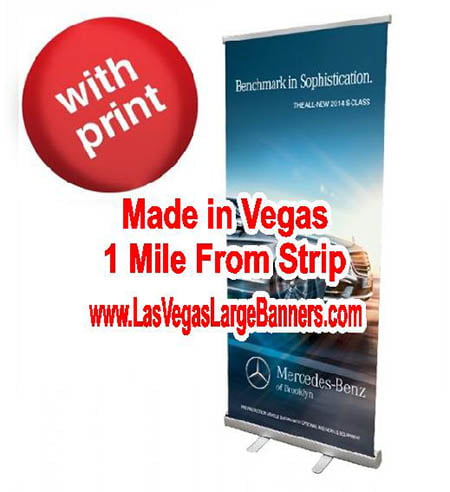 Affordable Retractable Banner Printing Vegas Come in Many Sizes
The most popular retractable popup banner stand is the 33×78 economy stand that comes with telescopic pole. So this telescopic pole allows for height adjustment so that you get the perfect fit. This banner stand sells for $125.00 and just takes a day or two to make. Same day retractable banner stands are available in many cases. Another popular vertical banner stand size is the 36″ wide x 92″ tall model. That equates to around 3ft wide by 8ft tall. You can print a lot of information on the graphic along with pictures. Another popular banner stand is the 45″ wide x 78″ tall banner stand. All banner stands come with a carrying case and telescopic height pole. So they also come with a full color printed graphic.