8×8 fabric banners Vegas are great for step and repeat banners. The fabric banner sign is printed on a polyester 8 oz material with inks designed to being out the colors of your design. The advantage of using a Las Vegas fabric banner is the fact that they are wrinkle free. The polyester material allows for a wrinkle free appearance. Also, the fabric banner can be machined washed after an event. So it will look like new for the next show.
The fabric banner signs are full color. Meaning you can print as many colors on the Vegas fabric banner as you like. So this would include banner printing of images and pictures on your Vegas banner.
The fabric banners are very popular at trade shows and conventions. So there are hundreds of these events being held in Las Vegas every year. The backdrop banners are placed at the back of display booths. So that the people walking by can see the banner sign. Many of the vendors and companies displaying at these events. Will print pictures of their product lines along with brief descriptions on the backdrop banners to get your attention. Sometimes they will just use these fabric banners as step and repeat banners with their logos on them. A step and repeat banner is where you places logos alternately on the banner so they can be seen in the background. Then people will take their pictures against the banner.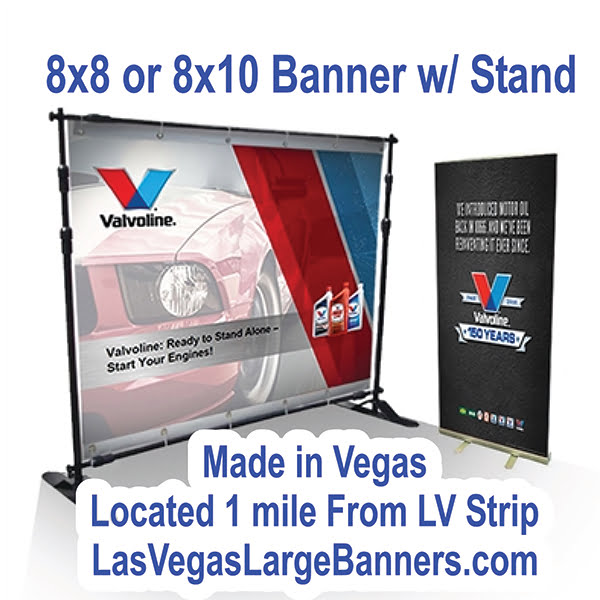 8×8 Fabric Banners Vegas Come In Other Sizes
The Vegas fabric banners come in many sizes. The two most popular sizes are the 8ft x 8ft fabric banner and the 8×10 fabric banner. Also the fabric sign comes in a 20ft fabric display kit. This large fabric display comes with all the necessary hardware, fabric banner and carrying case. You can simply walk into a venue with this and set it up yourself in 10 minutes or so.