24hour retractable banners Vegas are available in a 24 hour town. There are many Vegas conventions and trade shows that take place weekly in Las Vegas. So lots of Vegas banners and Las Vegas signs are needed for these events. Often the signs and banners that vendors and companies bring to Las Vegas for display get lost or damaged. So if this is the case, the signs need to be replaced quickly and inexpensively. Also last minute changes in marketing plans may require different signs and banners. In these tough economic times a business needs every advantage they can get.
The retractable banner stands are very portable and easy to set up. The portable banner signs can easily be moved around to find the perfect display location. Set up time is only a minute or two. Many times the companies will simply walk into a show venue and put up the banner stands themselves. As this saves a lot of money on hiring expensive union labor.
Designing Your Banner Stand For Maximum Efficiency
Keeping your banner stand graphics uncluttered is the key to making your trade show sign easily readable. Simple text will allow people to easily read your sign and interpret it. The fonts used need to be clear to make it easy to read. The banner stand printing process needs to use colors reflect of your company brand and products. Using vibrant colors that are bold will attract people's attention. That is the key to getting people to take notice of you at an event. Once they come to look at your banner stand signs, you can talk to them and promote your company. Interactive QR codes allow people to scan your retractable banner stand sign and save the information. If they are non English speaking. ( Which is the case a lot of times. Because the trade shows attract people from all over the world ) They can scan your code and read your information on their language. So this will get you more interest in the products you are promoting.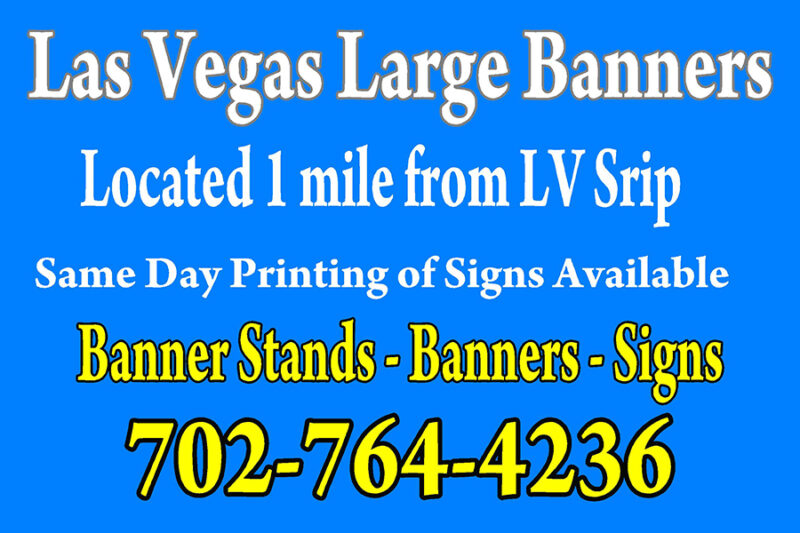 24hour Retractable Banners Vegas Are Needed At Vegas Events.
Same day banner stand signs and rush order signs are needed in Las Vegas. There are so many events that occur in Vegas that must have signs and Las Vegas banners. So some of these banners and signs need last minute replacing. Fortunately there are several Las Vegas banner stand stores that can assist you in getting your banner stands and signs made the same day. The local banner printing stores have state of the art large format printers. So they are capable of printing banner stands fast and with high quality.
The most popular retractable banner stand is the 33 x 78 banner stand. This pop up banner stand model sells for around $125.00 and comes with stand, print and carrying case. So retractable banner stands come in a variety of sizes to meet your marketing needs. Many banner stand sign shops carry many models in stock. These banner sign stores are capable of printing same day and fulfilling rush order sign requests. So these sign stores are generally located near the Las Vegas Strip and event venues. This allows for easy pick up of the signs and banners. It also allows for fast delivery of your signage as well.
Conclusion
Many vendors and companies coming into Las Vegas for an event will have their trade show signs made locally. So this guarantees the signs will be here when you arrive. So it also saves a lot of money on expensive shipping. The signs can be picked up upon your arrival or delivered to your event venue. Lyft and Uber will pick up signs and deliver them to your location. There is a small fee. But you can track them on your cell phone app and meet up with them at a pre determined location. So this allows for easy drop off of you trade show signage.