24hour retractable banners Vegas are available in a 24 hour town. There are many conventions and trade shows that take place weekly in Las Vegas. So lots of banners and signs are needed for these events. Often the signs and banners that vendors and companies bring to Las Vegas for display get lost or damaged. So if this is the case the signs need to be replaced quickly and inexpensively. Also last minute changes in marketing plans may require different signs and banners. In these tough economic times a business needs every advantage they can get.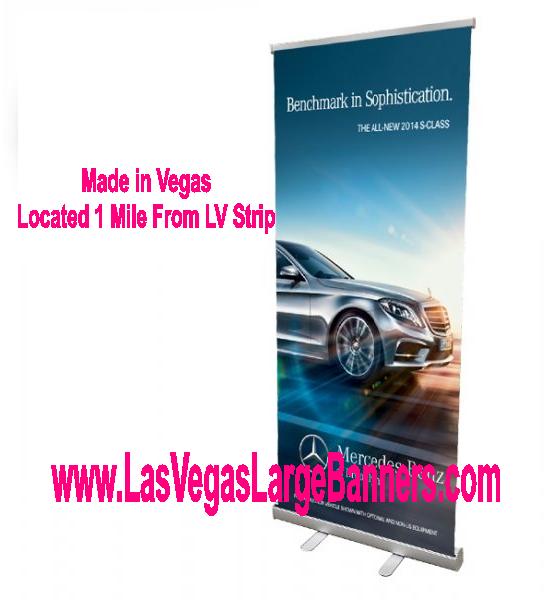 24hour Retractable Banners Vegas Are Needed At Vegas Events.
Same day banner stand signs and rush order signs are needed in Las Vegas. There are so many events that occur in Vegas that must have signs and banners. So some of these banners and signs need last minute replacing. Fortunately there are several Las Vegas banner stand stores that can assist you in getting your banner stands and signs made the same day.
The most popular retractable banner stand is the 33 x 78 banner stand. This pop up banner stand model sells for around $125.00 and comes with stand, print and carrying case. So retractable banner stands come in a variety of sizes to meet your marketing needs. Many banner stand sign shops carry many models in stock. These banner sign stores are capable of printing same day and fulfilling rush order sign requests. So these sign stores are generally located near the Las Vegas Strip and event venues. This allows for easy pick up of the signs and banners. It also allows for fast delivery of your signage as well.
Lyft and Uber will pick up signs and deliver them to your location. There is a small fee. But you can track them on your cell phone app and meet up with them at a pre determined location. So this allows for easy drop off