Vinyl banners Vegas are great for local businesses in Las Vegas. In these post covid times, the economy is sputtering. So local stores are using old fashion advertising to reach their customers. The are placing Las Vegas banners on their buildings. So by placing these Vegas on their buildings they get to be seen by the cars that pass their store every day. The Dept. Of Transportation does traffic studies in Las Vegas. They have noticed a dramatic increase in vehicular traffic due to all the new resident. People from California are moving in and need to know where to shop. These banners Vegas are doing just that. These cheap banners are being sen by thousands of people every day. That equates to just a few pennies every day. Since these vinyl banners last well longer than a year in the outdoor Southern Nevada weather.
The Las Vegas banners are full color vinyl banners. So that means your banner printing can be done in all colors or combination of colors. The banners also can have pictures and images printed on them as well. The Vegas banners are then hemmed for perimeter strength and then grommets are placed on them every two feet on all four sides. The banners are printed with fade resistant inks to withstand the hot summer sun.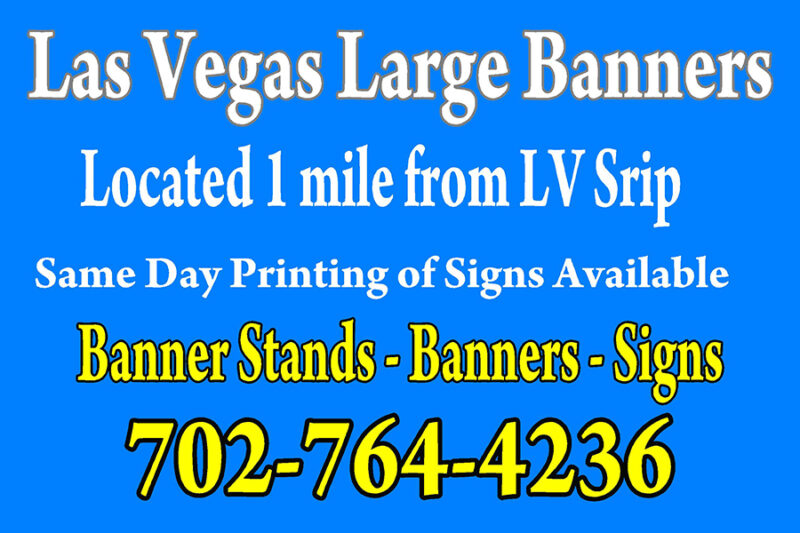 Local Businesses Near The Freeways Like Vinyl Banners Vegas.
Vegas stores near the freeway are using these large Vegas banners as a billboard. So they are really drawing attention to their business. They will print custom banner signs in large sizes and place them on the back of their buildings and aim them towards the freeways. So as the people drive by on the freeway, they can see what you have printed on your banner. This type of advertising is cheap and really gets attention.