Vertical banner stand signs Vegas are perfect signage for the convention and trade shows. These vertical retractable banner stands can be placed anywhere. So these vertical banner signs are self supporting. They do not need to be attached to anything to stand up and be displayed. So this makes the banner stands very portable and convenient. The set up time for these vertical retractable banner stand signs is just about one minute. They are easy to set up and can be used multiple times at different events.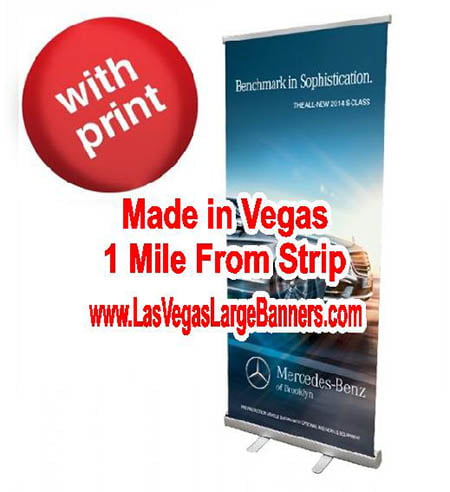 Vertical Banner Stand signs Vegas Come in Many Sizes
Retractable banner stands come in a variety of sizes. The economy priced 33×78 retractable banner stand is the most popular. This banner stand has about 17 square feet of printable space. Another popular banner stand sign is the 36″ x 92″ deluxe banner stand. This monster banner stand signs has about 23 square feet of printable space. This allows for a full color graphic that can be in any color. So in addition the graphic can have pictures and logos printed on it. All the banner stands come with a telescopic pole for height adjustment. So the banner graphic requires no bleed since the graphic height is adjustable. The telescopic pole allows for the perfect fit on the banner stand.
So the vertical banner stands come in many more sizes. Your local Las Vegas banner stand printer will be able to answer more questions you may have. Also same day printing of Vegas retractable banner stands is possible. Many sign shops in Las Vegas cater to the conventions and trade shows and have state of the art sign printers. These large format printers are capable of printing very fast with exceptional quality. Ask your local sign printer how these banner stands can help you.