Vegas Tradeshow banner stand signs are liked by the vendors and companies displaying at the trade show venues. So these banner stands are portable signs that can be placed anywhere. The retractable banner stands are self standing and require no support to be displayed.
Trade show banner stand displays come in many different sizes. The most common size is the 33″ x 78″ retractable banner stand that sells for around $125.00. This full color banner stand display sign has almost 17 square feet of printable space on it. So this allows for a lot of information as well as pictures. So pictures and images can also be printed on the banner graphic.
Another popular Las Vegas convention banner stand size is the 33″ x 80″ retractable banner stand. This deluxe banner stand has a wide chrome base that makes it very impressive looking. The banner graphics can be printed on a smooth anti curl banner material or standard banner material. The banner sign graphic is full color. So this means you can have as many colors printed on the banner sign as you like.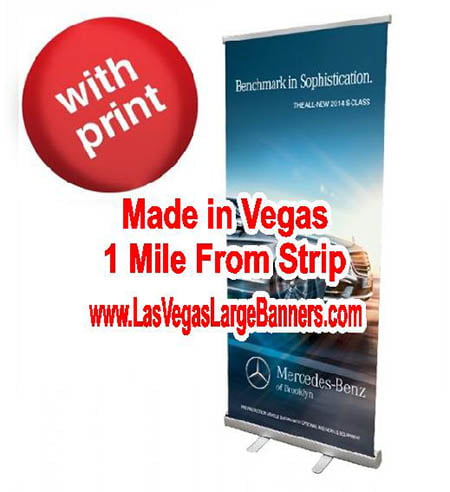 Same Day Vegas Tradeshow Banner Stand Signs Are Also Available
There are hundreds of trade shows and conventions held in Las Vegas yearly. At these events many Las Vegas signs and banners are needed. Many of the vendors and companies showing off their products prefer their signs made in Las Vegas. Not only does this save money on shipping. So it also save worry that your signs and banners do not show up or shop up damaged. So by having the signs made locally by one of the Las Vegas tradeshow sign shops save money and worry.
Contact your local sign shop today and find out about these trade shows signs and convention signs.