Vegas trade show sign banners can get you those vinyl banners and banner stands needed for your event. Las Vegas banners and retractable banner stands are some of the most popular signage at events and shows. So at any convention or trade show you will see sign banners and banner stands . The vendors and companies displaying at the events love these portable and easy to set up signs.
The retractable banner stands are self standing. So this allows the trade show banner stands to be placed anywhere without any type of support. The banner stands all come with a nylon carrying case which allows for easy transport. The set up time for a retractable banner stand is about a minute or two.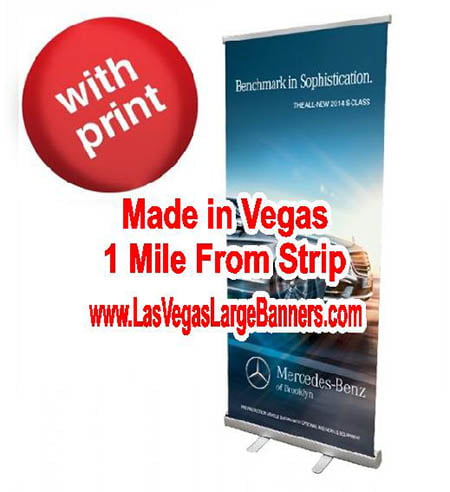 Same Day Vegas Trade Show Sign Banners Are Available
When companies and vendors come to Las Vegas for a convention or trade show. Very often the forget to bring the signs and banners for the shows. So in other cases the shipping companies that they rely upon don't bring the signs and banners on time. Or sometimes the signs and banners show up damaged. So in these cases it is imperative to get the sign graphics replaced fast and inexpensively.
So there are several sign stores in Las Vegas that cater to the trade show industry. These sign shops are generally located near the convention and trade show venues. So this allows for fast delivery or pick up of the signs and banners. These sign shops have modern sign printers capable of printing at very fast speeds. Also the modern printers are printing in high quality using specially formulated inks that bring out the bright and vivid boldness of your designs. The inks are also ecologically friendly.
Contact your local Vegas sign banner store for more information on these great signs for the trade shows.