Vegas banners are used by local Las Vegas businesses to advertise their store merchandise and services. These banner signs have proven to be very cost effective. Local stores are using Las Vegas banner printing to print custom banners in any color and size. The vinyl banners are full color. So that means you can print as many colors on the vinyl banner as you want. Along with pictures and images of logos and products. So businesses are printing pictures of sale merchandise on the banner to let people know their is a sale going on.
The banners are placed on their building and fences. So they can be seen by the thousands of cars that pass by every day. Since the banners will last well more than a year, that equates to just pennies a day to be seen by thousands of people. It is a great investment that many stores are now using as part of their marketing.
Local restaurants are using banner signs as a way to advertise food specials. They will display the banner for a couple of weeks advertising a food special. So then they rotate the banners every two weeks to advertise a new special. This method of advertising has made one pizza place a lot of money. One week its a pizza deal, the nest week a chicken finger deal. So then the following week its a pasta deal. The whole idea is to keep rotating the banners so that the advertising is fresh. So this makes the people look for the banners to see what the food special is.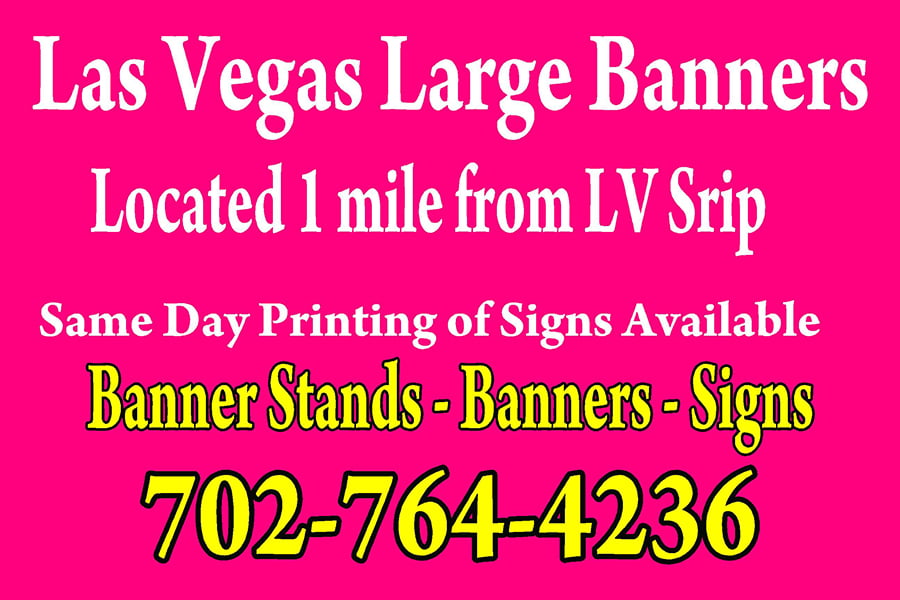 Local Banner Printers Can Get You These Vegas Banners Fast and Cheap.
Your local Las Vegas banner store can print you these vinyl banners fast and cheap. The newer printers print at higher quality and faster than ever before. So this allows for a cheaper production of a banner sign that saves you money. So contact your local Vegas banner printing store for more information.