Vegas trade show booth banners are in demand during the busy trade show and exhibition season in Vegas. This season for event and shows run year round. But the majority of events and shows take place during the busy December through May season. Las Vegas has a moderate climate and people love to get away from the cold winter where they live. So they come to Las Vegas to participate in the many events and shows. Las Vegas is a major destination for trade shows and conventions. Southern Nevada is well prepared for the millions of participants in these events. Vegas has three big convention venues that have over 1 million feet of floor space. The largest of the convention venues, the Las Vegas Convention Center, has over 3 million square feet of space.
So many signs and banners are needed for these events. Backdrop banners, pop up banners, vinyl banners and foam signs are needed in abundance. So this is becasue many of the vendors and companies come in to Las Vegas to display at these events have local sign companies make their signs. This not only saves on expensive shipping charges. It also alleviates the stress of not knowing if the shipping companies will deliver the signs and banners on time. And in good shape. So many times same day sign printing is necessary to replace lost or damaged signs.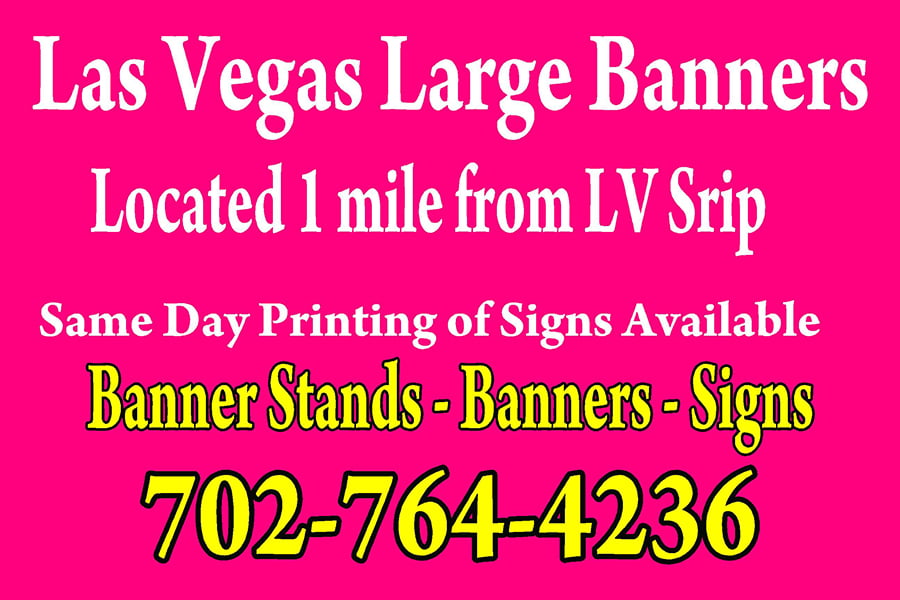 Vegas Trade Show Booth Banners Are Made in Vegas
Las Vegas area sign shops are well prepared for Las Vegas banner printing and sign printing. There are several sign shops close to the event venues that have modern sign making printers. These large format printers print banner signs very fast with high quality. The inks used are ecologically sound and environmentally friendly. They are designed to bring out the vivid and bold colors of your design.