Vegas event popup display signs are used a lot at events and shows in Vegas. So there are hundreds of events held in Las Vegas every year. At these events and shows many signs and banners are needed for advertising and marketing. So the popup backdrop signs are very popular. The popup signs are easy to set up and can be walked into the event venue without expensive union labor. These event pop up signs can be purchased in kits. These complete kits with frame , fabric banner and carrying bag are easy to transport and set up.
The most common event backdrop display is the event banner stands. These banner stands comer in many sizes to accommodate your marketing needs. The most common event banner stand is the 33″ x 78″ banner stand. So this banner stand display sells for about $125.00. So other sizes are available to from around 2ft wide to around 5 feet wide. The sign graphics are full color. So this equates you to being able to print as many colors on the banner stand graphic as you like.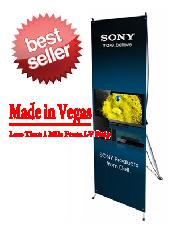 Vegas Event Popup Display Signs Are Cheap In Price
Las Vegas tradeshow popup signs and event signs are made locally in Las VEags. Many vendors and companies prefer to have their sign graphics made locally in Las Vegas. So this guarantees that they will be in Vegas when you need them. So often shipping companies will lose or damage signs and banners while being shipped into Las Vegas. Many times the Las Vegas event signs will not even show up at all.
The sign shops that service the event and show industry are located near the event venues. Same day event signs are sometimes available in emergency situations. Your local sign company will have more information on these signs. So give them a call today.