Vegas cheap vinyl banners are available in the Las Vegas area. These Las Vegas banners can be custom made to any size you like. So they can be as small as 1ft x 1ft to as big as 10ft tall x 100 feet long. These Vegas banners are full color banners. Meaning you can print just about any color you want on them along with images and pictures. The banners Las Vegas all come with hemming on the perimeter for additional edge strength. So then grommets are added through the extra strength edge every two feet on all four sides.
Las Vegas banner printing is performed on 13 ounce vinyl banner material with eco solvent inks. These inks are designed to withstand the harsh sun during the long Las Vegas summer. The inks are environmentally friendly. Large format printers do most of the work. These new modern banner printers can print Las Vegas banners faster then ever before. The new production printers also do banner printing with the highest quality. Technology has improved dramatically on these large format printers. So the banner sign shops in Vegas can produce more banners and signs than ever before in less time. So consequently, the price of printing banners has fallen. This cost savings is then passed on to the customer.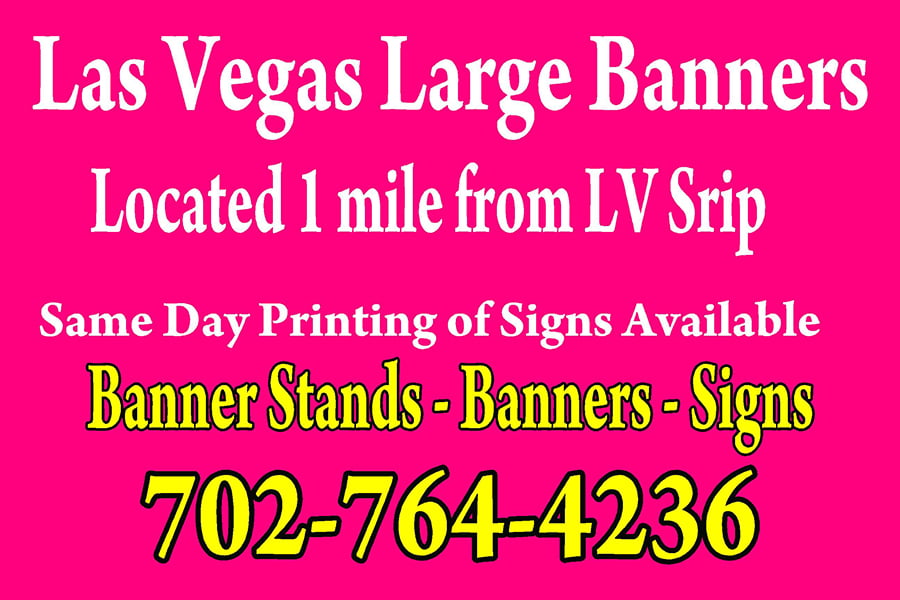 Vegas Cheap Vinyl Banners Can Be Made The Same Day in Cases of Emergency
Same day Vegas banners are possible with the new large format printers printing banners so fast. This works great for the people displaying at the event venues in Las Vegas. As many signs and banners shipped into Las VEgas do not arrive on time or show up damaged. Same day Vegas banners and same day signs can be produced because of the speed of these new printers. So contact a local Vegas banner printer for more information on getting cheap Vegas banners.