Vegas 8ft popup display signs are the new rage at events and shows in Las Vegas. These tradeshow display signs fit great in a display booth and are easy to set up. So instead of using expensive union labor to set up your display. You can have a few workers spend 5 minutes and put up your own 8ft backdrop display sign.
So these 8ft backdrop pop up displays come in the straight version or curved version. The 8ft curved display signs all come with the necessary hardware and fabric banner. Also a carrying case is included for easy transportation. The tradeshow banner displays can be used multiple times at many different events. The fabric banner is machine washable. So after every event you can have it washed so it looks new and fresh for the next event. If a new fabric banner is needed, you can purchase a fabric banner separately for a low cost instead of having to replace the whole sign display.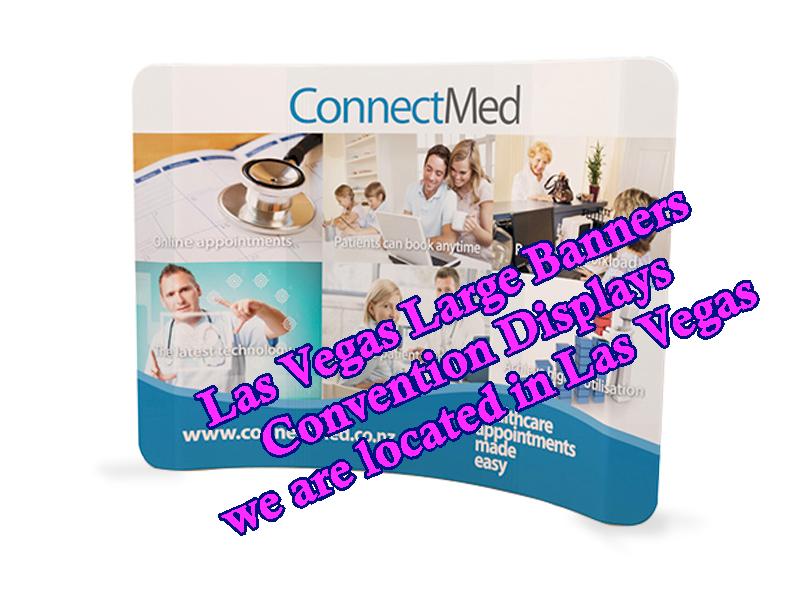 Vegas 8ft Popup Display Signs Come With Full Color Graphics
The banner graphics for the 8ft Pop Up banner display are full color. So this means you can have as many colors on the banner as you like. In addition you can have pictures and images printed on your fabric banner. Many companies displaying their products at the tradeshows print pictures of their products on the fabric banner. So this allows you to see in large format what products you offer . It also allows the sales people to talk to you about your product of choice. After all, that is the purpose of trade shows and events.
Vendors and companies prefer to have their signs and banners printed in Las Vegas. So this allows them to just pick up their signs when they arrive or have them delivered to there event or hotel room.