Vegas 10ft x 10ft banners will get your company noticed at a trade show or convention. So with hundreds of events and shows held annually in Las Vegas. These large banners get noticed. The 10ft banners are full color and can have pictures printed on them. So you can theoretically print your product line on the banner. So then display them at a trade show or convention. Your customers cannot miss them because they are so big.
These large 10ft banner signs are wildly popular at events. So not only can they be used at trade shows and conventions, they can be used at outdoor events. These 10ft x 10ft sign banners can be used behind stages for props. The 10ft banners can also be made to bigger sizes. So 10ft x 20ft banners an also be made for larger signage. The banners are traditionally printed on a 13 ounce vinyl banner material that makes them long lasting. The inks used allow for long usage without fading in the hot summer sun.
Fabric 10ft x 10ft banners can also be made. The banner is printed on a polyester material that allows for a wrinkle free appearance. This type of banner can be seen at fancy Hollywood events where the movie stars pose in front of them for pictures. The large 10ft banners also make great step and repeat banners where a logo or name is alternately printed on the banner. So this makes the logo or name visible from no matter what angle the picture is taken.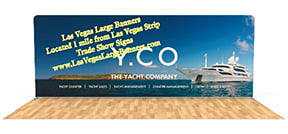 How Are Vegas 10ft x 10ft Banners Made ?
So Las Vegas 10ft sign banners are made with large format printers capable of printing at amazing speeds. The banners are full color. After the banner printing the banners are hemmed on the perimeter for additional strength along the edges. So then grommets are placed on all four sides. Pole pockets can be added to the top and bottom as well.