Tradeshow pop up signs Vegas are used at the events and shows in Las Vegas. Many vendors and companies who are exhibiting at these shows like the pop up signs. So this is becasue they can simply walk into a venue with them and set them up themself. They do not need to hire expensive union labor for a display set up.
The Las Vegas event and show industry is big business. There are three very large state of the art event venues in Las Vegas. These venues have well over one million square feet of divisible floor space. These facilities are so large that they can actually have multiple convention and events taking place under one roof at the same time. The Las Vegas Convention Center is the biggest of them all. So many signs and banners are needed for these events. Las Vegas foam board printing and banner stands are some of the major types of signage used at these events. Also Las Vegas banner printing is also very popular at these shows. The tradeshow banner printing is a low cost type of signage that is custom made to the size you like. The foam board signs can also be made to any size you like.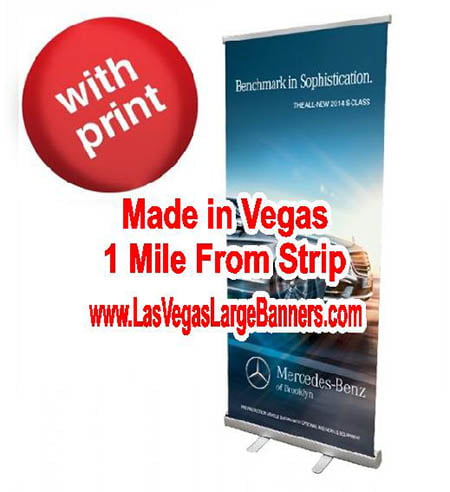 Tradeshow Pop Up Signs Vegas Come in Many Sizes
The most common size popup banner stand sign is the 33×78 sign. This retractable popup banner stand sells for about $125.00 and can be made in just a day or so. In cases of rush sign printing, the banner stands can be made the same day in many cases. Many vendors and companies displaying at the vent centers need fast sign and banners because signs get damaged or lost. The signs need to be replaced quickly so that the show can go on as planned.