Trade show banner Vegas can get you those Las Vegas banners for your trade show or convention. Many events and shows are taking place in Las Vegas every year. These events bring in thousands of companies and vendors to display the newest products and ideas. So in return, millions of people come to these Vegas shows to keep on top of trends. Many Vegas banners and Vegas signs are needed for these events. The vendors and companies prefer to have their trade show signage made in Vegas. So this saves money on expensive shipping costs. It also guarantees the signs and banner signs will be in Vegas when you are. There are always horror stories of signs not showing up on time or showing up damaged. So in these cases, the trade show signs and trade show banners have to be replaced.
One of the more popular event banners is the backdrop banner signs. These backdrop signs are usually 8×8 banners or 8×10 banners. Because this size fits very well at the rear of your display booth. So as the people are walking around, they can see your large banner. So adjustable banner stands are used to display these large banners. They adjust in size to give you the right fit. Large banners are also popular at the trade shows and conventions. These large banners can hang from the rafters or ceiling and let everybody know who you are. The union labor must hang these banner signs as there are numerous restrictions in place.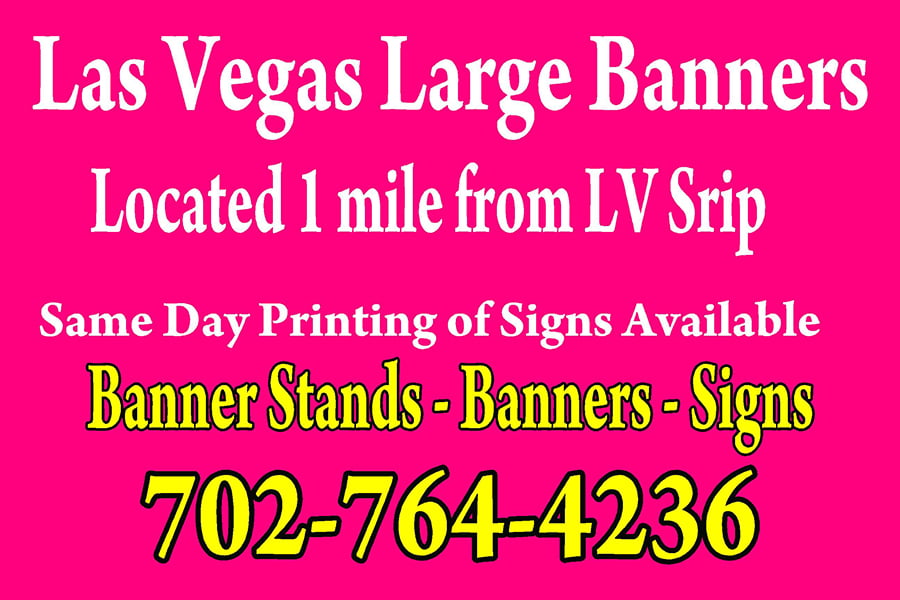 Trade Show Banner Vegas Are Cheap
Las Vegas banners are about $3.00 a square ft. The Vegas banners are full color. So you can have many colors printed on them along with pictures and images. The banner signs can be made same day. Normal turnaround is just a day or two.