Trade show backdrop display signs Vegas are being used in abundance at the various trade shows in Las Vegas. The upcoming Consumer Electronic Show in Vegas has already started ordering their backdrop display signs for the event. This event is being held in Las Vegas Nevada at the Las Vegas Convention center. Several hundred vendors and companies from around the world will be displaying the new electronic gadgets. Hundreds of thousands of people from all over will attend this event. Many Vegas banners, foam board signs and retractable banner stands are needed for this event alone.
The trade show display backdrop banners are especially poplar at these type of events. The vendors and companies like to have large backdrop signs at the rear of their booths. These backdrop signs come in many sizes. The 8′ backdrop display sign is very popular along with the 10′ backdrop display sign. Of Course, if you have a very wide booth, the 20′ backdrop display is also available at a very good price. These backdrop display signs come with all the hardware, carrying case and fabric banner. You can actually just walk right into a event venue with these large backdrop banners and set it up yourself in just a few minutes. So no expensive union labor is needed.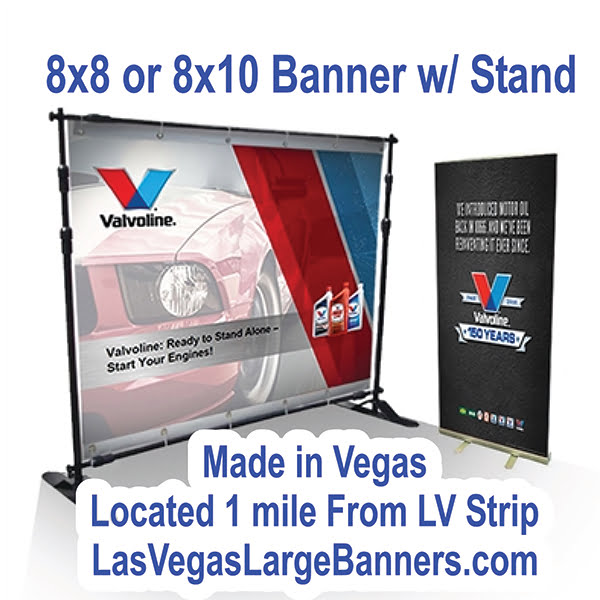 Trade Show Backdrop Display Signs Vegas Are Available Locally
Many of the vendors and companies coming into Vegas for the events prefer to have their Vegas signs and Vegas banners made locally. So this saves a lot of money on needless shipping. It also makes sure that your signs and banners will be in Vegas when you are. So many times shipping companies lose sign graphics and do not deliver. Or the signs are damaged and have to be replaced. By having the signs made by local Vegas sign companies, you are guaranteed the signs will be available for your event when you need them.