Trade show 8ft banners Vegas are in demand for the companies displaying at the Las Vegas convention venues. These trade show 8ft signs are being placed at the back of display booths at the convention venues. So this way as people walk by, they get to see what you have printed on your large 8ft signs. Smart companies are printing pictures of their products so they can be seen. They are also just printing their company name on the sign and logo for branding purposes.
These tradeshow banners can be printed on a vinyl banner or fabric banner. The vinyl banner is a 13 ounce vinyl banner which allows for a full color print. The fabric banner is wrinkle free and can also be printed in full color. So that means you can print as many colors on your banner as you want. So this also includes images and pictures.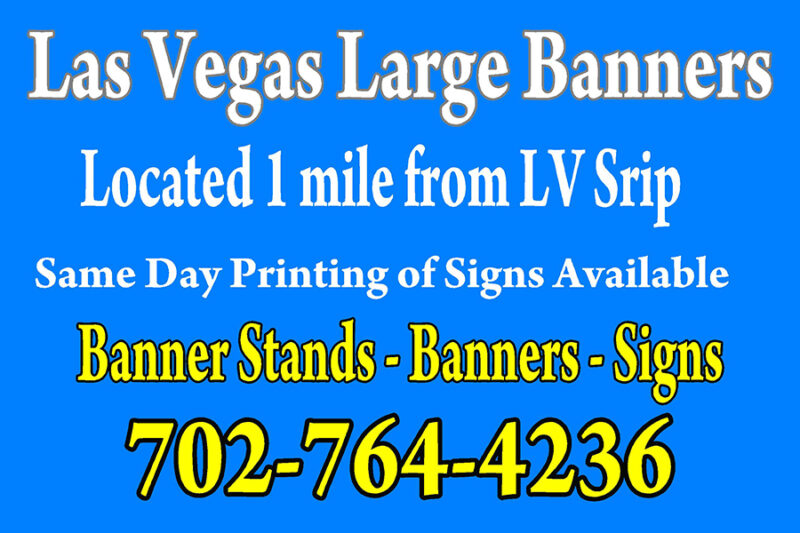 Trade Show 8ft Banners Vegas Are Not Expensive.
Las Vegas 8ft trade show banner signs cost around $3.00 a square foot. The fabric banner costs around $4.00 a square foot. So both the types of banners are full color. They can be finished with pole pockets or grommets. The pole pockets allow a pipe to slip through the pocket so it can be displayed.
The convention 8ft banner displays also come in kits. This kit includes hardware, fabric banner and carrying case. The carry case allows for easy transportation of the banner display. The 8ft banner displays come in a straight version and a curved version. The 8ft curved tradeshow display banner and the 8ft straight tradeshow display banner both sell for under $600.00.
Sign shops in Las Vegas service the trade shows and conventions. These sign shops are located near the convention venues and can answer your additional questions.