Same day popup banner stands can be printed in Las Vegas. Las Vegas is host to thousands of events and shows every year. So many signs and banners are needed for these events. One of the more popular signs is the pop up banner stand. The pop up banner stand is a self standing sign that is retractable. Pop up banners retract into a compact casing and when fully extended equates to about 17 square foot of printable space. Vendors and companies like these retractable banner stands because they can be placed anywhere. Because they are self standing.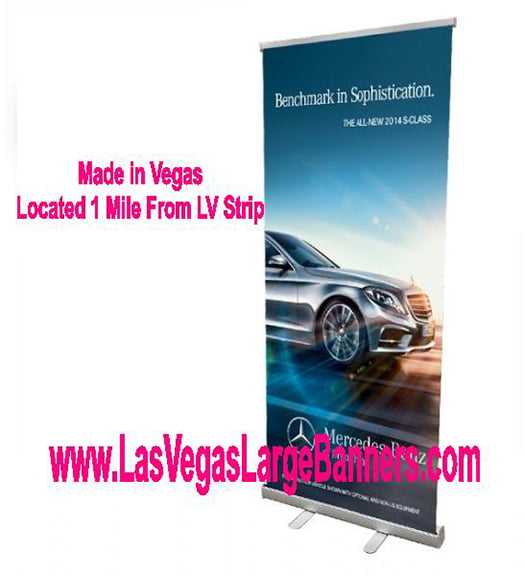 Same Day Popup Banner Stands Are Needed For Events and Shows
Signs and banners get lost all the time at the events and venues. Sometimes the shipping companies loose the signs or they get delayed because of weather. So whatever the reason, the banners and signs need to be replaced fast and at a low cost. Other times the smart vendors and companies will simply order their sign graphics from a Las Vegas sign shop to make sure that the signs are ready and available.
So what happens if you need same day banner stand printing ? There are many sign stores in Vegas that service the event and show venues. These sign shops are close to the venues like Las Vegas Convention Center or Mandalay Bay Convention Center. They have modern sign making equipment that can print your signs and banners fast and at a low cost. So stay away from sign brokers who promise everything but do not have the means to produce signs themselves. They rely upon distant sign shops to ship the signs in. Often at inferior quality and higher pricing.
Contact your local Las Vegas banner stand sign store for more information on these popup retractable banner stands.