Retractable banners signage Vegas is a sign in demand at the many conventions held in Las Vegas. These retractable banner stands are very portable and easy to set up. So many vendors and companies coming to Vegas will just simply walk into a event venue with them. So then they just set the banner stands up themselves instead of hiring expensive union labor. The retractable banners are set up easy and taken down with ease. As it only takes a minute or so to set up a retractable banner and take it down.
The retractable banner signs are long lasting. So this allows them to be used over and over again at many different events. You can walk through the Las Vegas Convention Center and se how popular these Vegas banner stands are. Most all the convention booths are using these highly portable banner displays.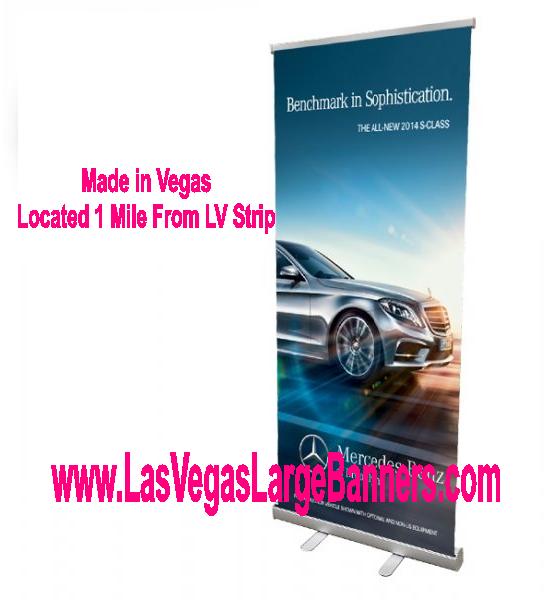 Retractable Banners Signage Vegas Are Cheap and Fast To Print.
Same day banner stands and next day banner stands are available in Las Vegas. The sign shops in Vegas that service the events and shows have modern sign making equipment that can make your signs and Vegas banners fast. The newer printers allow for faster sign printing and banner printing than ever before. A banner stand graphic can usually be printed in about 15 minutes in high quality. Allowing for drying and installation, the total production time is generally less than two hours. So this is important because many times vendors and companies forget their signs and banners back home. These signs need to be replaced quickly and at a low cost. These Vegas sign shops can generally be found near the convention and event venues. So the close proximity to the event venues allow for fast pick up or delivery of signage.