Retractable banner stand sign printing is popular in Las Vegas during the trade show and convention season. While the trade shows are year round. The majority of trade shows and conventions occur during the busy November through April season. ( However, with covid issues the events and shows are and have been scattered during the off months ) So many signs and banners are needed for these events. The convention banner stands are very popular. The roll up banner stands are self standing signs that can be placed anywhere. The portable banner signs allow them to be placed anywhere since they are self standing.
So these banner stand signs are printed in multiple colors. So you can have as many colors or combination of colors printed on them. Banner stand printing can also be printed with images on the graphic as well. So many times vendors and companies will print pictures of their products and services on the banner stand signs.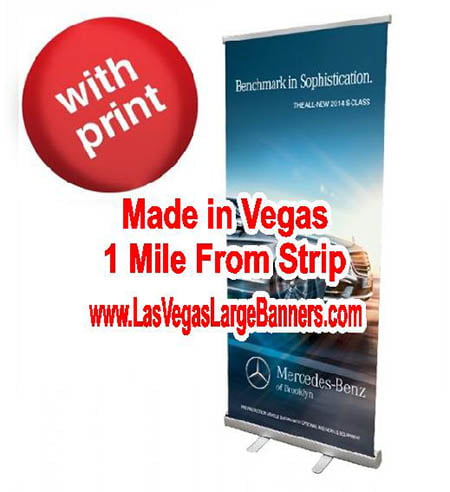 Retractable Banner Stand Sign Printing Comes In A Lot Of Sizes
All banner stands are not created equal. So pull up banner stands come in many sizes. You can purchase them in widths starting at 24″ all the way up to around 57″. The stands all come with hardware, carrying bag and full color graphic. Same day signs Las Vegas are also available in many cases for people displaying at the conventions and trade shows. So often signs and banners are shipped into Vegas and never arrive on time. In other cases the signs and banners show up damaged and need replacing. So what ever the reason, Las Vegas sign shops have the ability to do banner stand printing the same day. If you should find yourself in need of same day signs Las Vegas give the sign shops a call and get your signs and banners made.