Retractable banner signs Las Vegas are very popular at event and shows. You cannot walk through the Las Vegas Convention Center and not see many of these retractable banner stands on display. The vendors and companies displaying at these vents love the portable banner stands. So these portable banner stand signs can be placed anywhere. Because they are self standing and require no support to display.
Millions of people come to Las Vegas for these events. So hundreds and vendors and companies come here to display the biggest and best products and services from around the world. Many signs and banners are needed for these events. So Las Vegas has a inordinate amount of sign shops that service the conventions and trade shows. Thousands of Las Vegas signs and banners are printed and made in Vegas every year for these events.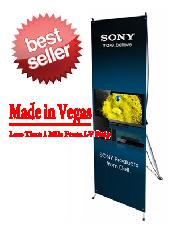 Retractable Banner Signs Las Vegas Come in Different Sizes.
The most popular sized trade show retractable banner is the 33″ wide by 78″ tall model. This economy banner stand has almost 17 square feet of printable space. Best of all it comes with a telescopic pole that allows for height adjustment. So this allows you to get the perfect fit for your banner stand display. The banner graphics are all full color graphics. So this means you can print pictures and images on your banner stand graphic in any color or combination of colors.
Another popular convention retractable banner stand is the 33″ wide by 80″ tall deluxe banner stand. This banner stand features a wide chrome base that is very impressive looking. SO other banner stand sizes include the popular 45″ wide x 78″ tall model and the 36″ wide x 92″ model. So then X stand banner stands are also available at lower prices.