Pullup banner stand signs are retractable banner stands. These retractable banner stands are very popular at the many events and conventions held in Vegas. The pull up signs are very large which gives you the opportunity to print a lot of information on them. Also the banner stands are portable. So these self standing signs can be placed anywhere and moved around easily. Also they can be used many times over at different events. The banner stands come with a carrying case that makes for easy transporting. You can simply walk into an event center with your stand up signs and set them up yourself in just a minute or so. The take down is less than a minute also.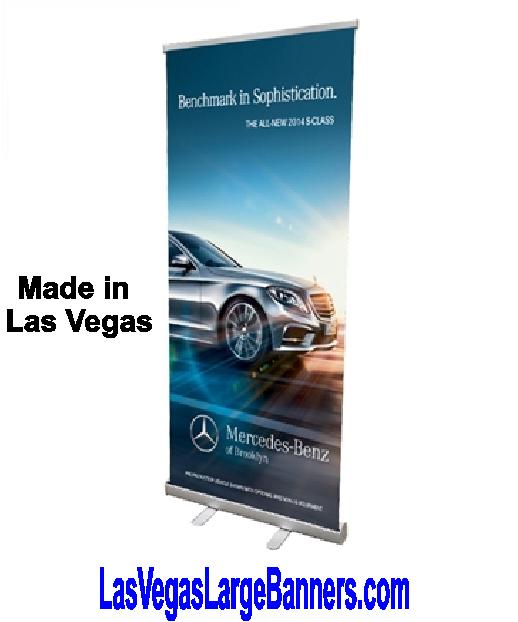 PullUp Banner Stand Signs Are Cheap in Price.
Roll up banner stand signs cost around $125.00 and take just a day or so to make. Same day retractable banner stand signs can be made in cases of emergency. So sign stores in Vegas recognize that at events and shows that graphics get lost or damaged. Many times the shipping companies responsible for your sign graphics fail to deliver in time. So in these types of cases, the signs and banners need to be printed fast. Also last minute changes in marketing strategy may require new signs and banners. The retractable banners come in many sizes. These sizes range from about 2ft wide to around 5ft wide. They also come in premium and economy models.
The retractable banner stand signs are full color graphics. So this means you can have as many colors or combination of colors printed on your design as you like. Also you can have logos and pictures of products or background scenes printed on the banner graphics. The banner graphics can be made with a anti curl material or a 13 ounce vinyl banner. Both these substrates have advantages. The anti curl banner has a smooth finish and looks very professional. But the graphic is more delicate than a vinyl banner. The key to the sign graphics is having clear and concise text and high quality pictures. These high quality pictures will reflect on your company's reputation.
Pullup banner stands are available at Vegas sign companies that service the conventions and trade shows. Generally these sign stores are close to the Las Vegas strip. So fast pickup and delivery is available for rush orders and same day sign printing.