Pull up banner displays are also known as retractable banner stands. These compact signs roll up into a small tube for easy use. When the banner graphic is pulled out of the frame. The banner graphic is pulled vertically. The stand is self containing and can be set up anywhere. So the banner stand is popular because they can be placed anywhere.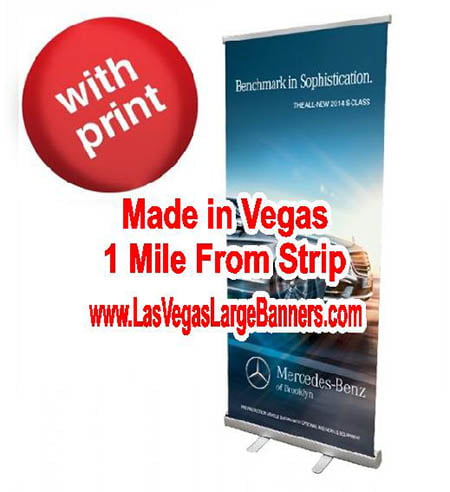 Pull Up Banner Displays Are Popular At Conventions
Vendors at the Mandalay Bay Convention Center like roll up banner displays because they are inexpensive. Also they are very easy to set up. Set up time is just a minute or two. Take down is about the same length of time. The banner stand displays come in many sizes. The economy version is sized at 33 x 78. This retractable banner stand sign has approx. 17 square feet of printable space to impress your clients. The graphics are full color and allow for the printing of pictures and background scenes. These banner stands are very useful to display your products or company information.
Also banner stands come in many more sizes. Ranging from about 24″ wide to around 45″ wide. The heights vary with a maximum height of around 92″. Also the retractable banner stands come in deluxe and economy versions. So the deluxe versions are a little pricier, they are most impressive looking. With the wide chrome bases they look very good. Also, the banner stands all come with a nylon carrying case. This allows for easy moving of the banner stand to different locations.
Retractable banner stands are available at 5 star Las Vegas sign stores. Same day printing of banner stand signs is also available in cases of emergency. So contact your sign store for more information. Have a great event in Las Vegas and signs are a sure fire way to achieve that success.