Pull up banner signs are one of the most sought after signs at conventions and trade shows. These retractable banner stand signs are self contained. Also they can be placed anywhere. The banner stand displays are self standing and require no support other than their hardware. The signs can be moved around for placement very easily. The set ip time is aboput a minute. So you can simply walk into a event venue with your retractable banner and set it up yourself. No expensive union labor is needed.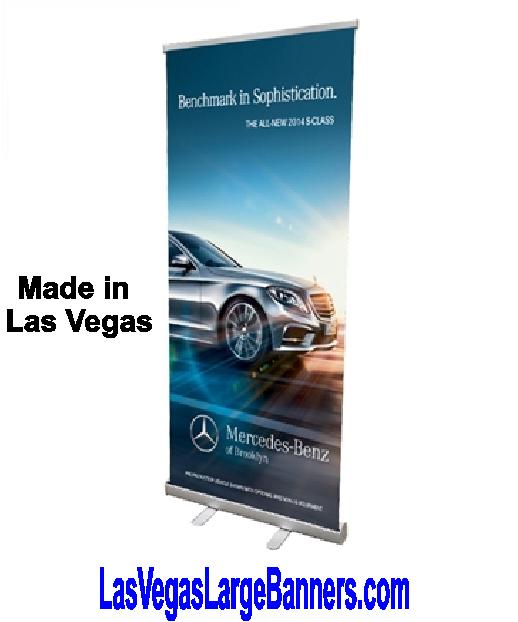 Pull Up Banner Signs Can Be Seen At Convention and Trade Show Venues
Pull up banners are used a lot at convention venues. Hundreds of businesses around the world come annually to display at the conventions. So this brings millions of people from across the globe to see the newest products. Las Vegas is a great place to have a convention or trade show. There is so much to see and do while you are here. But truth be told, attendees get tired of walking and talking. So creating a fantastic banner stand graphic display should be important to you. Bold and vibrant colors will certainly get your trade show sign noticed. And that is what it all about. You want these attendees to stop and talk to you about the products you are promoting.
These inexpensive signs are very easy to set up. The signs are cost effective. The economy 33″ x 78″ retractable banner stand sells for around $125.00 The deluxe version of the banner stand sells for around $165.00 Many more models are available to match your marketing needs. The main difference between the economy banner stand and deluxe is the wide chrome base. Both models come with a telescopic height pole and carrying case. All the banner stands come with a full color graphic. Meaning that during the banner printing you can print as many colors on your graphic as you like. So this also includes banner printing of images and pictures. Quality pictures should be used on your banner stand. As these pop up banner displays are usually looked at up close.
Conclusion
Stand Up banner stands usually have a 2 day turnaround. However, same day printing pull up banners is possible. Las Vegas is known as a 24 hour town. So Vegas signs and Las Vegas banners should be able to be made quickly and inexpensively. Your local Vegas sign store will be able to let you know their production schedule. Sign shops know that signs and banners get lost or damaged at these trade show very often. So these Vegas signs and Las Vegas banners need to be replaced quickly. They also need to be replaced at a low cost. Since budgets will be stretched with the cost of lost graphics. Las Vegas sign shops will accommodate you. So the show can go on as you have planned. In these tough economic times, businesses need there signs. Contact your local Vegas sign company for more information on banner stand signage.