Las Vegas Nevada banner stands are used a lot at the events and shows in Las Vegas. These portable banner stand signs are perfect for displaying and advertising. So the stand up banner stands are self supporting. So that means they can basically be displayed anywhere at a convention venue. The portable display trade show signs are great for these types of events.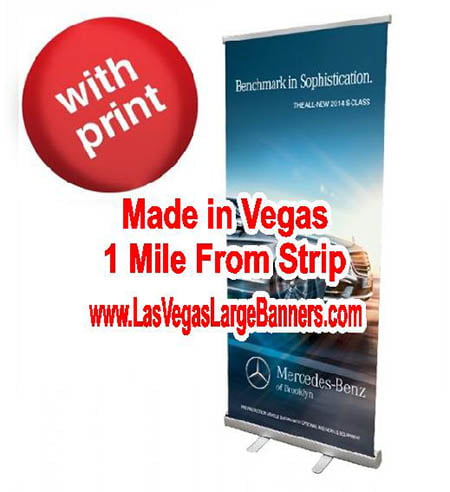 There Are Many Types Of Las Vegas Nevada Banner Stands
The Las Vegas economy banner stand is the 33″ x 78 model. So this model comes with a telescopic height adjustment pole. That telescopic pole allows for you to set the height on your banner stand. While most banner stands come with a set height. So this model adjusts so that you get the perfect fit. This particular pull up banner stand offers almost 17 square feet of printable space. The graphic print can be full color. So that means you can have printed on the banner as many colors as you like. In addition you can have pictures and images printed on the banner graphic.
Las Vegas banner stands also come in many other sizes. The deluxe 33 x 80 banner stand is popular becasue it has a wide chrome base that looks very impressive. The 36 x 92 deluxe banner stand is wide and tall. So it is almost 8ft tall. A couple of those placed next to each other makes for a very impressive banner stand display.
Same day banner stands 89109 are available for the trade shows and conventions. Many times vendors and companies come into Las Vegas and find their signs and banners damaged. In these cases the signs need to be replaced quickly and at a low price. Las Vegas has several sign stores that can help you.