Las Vegas 8ft banners are great for getting noticed. So whether you are at a trade show or own a business in Vegas. These banner signs will get you noticed. The 8ft tall banners can be made in any length. So a 8ft x 8ft banner can be made or as large as 8ft tall by 50ft wide. The 8ft x 8ft banners and 8ft x 10ft banners are very popular at the trade show venues. This is mainly due to the size of the trade show display booths. The companies use an adjustable banner stand that displays these banners tight. So there is no wrinkles in the banner. The banner stands adjust in height and width to give the banner a little stretch.
These Las Vegas banners are full color. So that means you can have as many colors on the banner as you like. So this also includes printing images and pictures on the banner.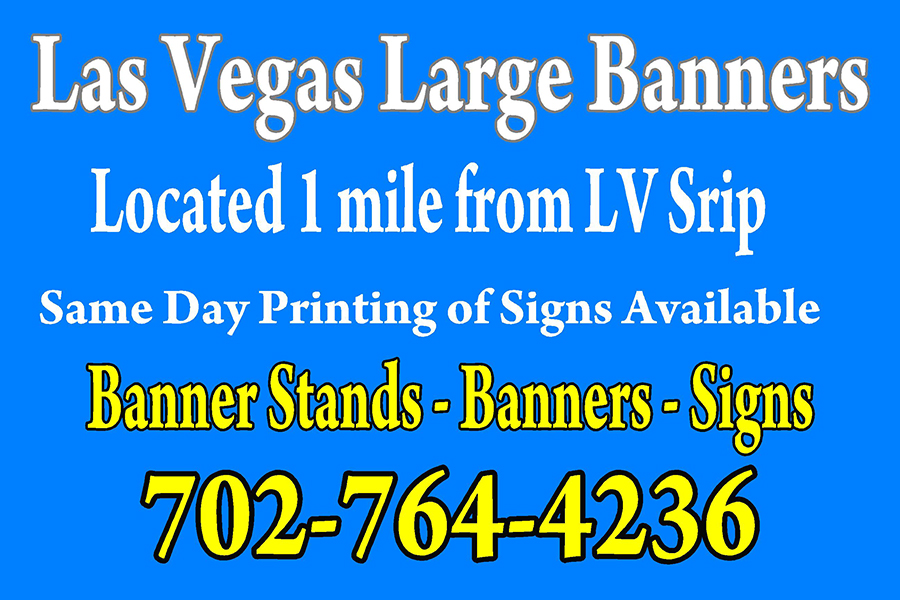 Las Vegas 8ft Banners Are Great For Local Businesses.
So in these tough economic times many stores are turning to old school advertising. These smart stores are using large vinyl banners as a way to advertise to their customers. So by placing large 8ft banner signs on their buildings. The stores are able to advertise on their banners and get the attention of people passing by. So this is a low cost banner sign that lasts for a long time.
Many Las Vegas businesses located near the freeways are using these large 8ft sign banners to get noticed. A 8ft tall banner can be seen from far away. So by placing a banner sign on their building and pointing it towards the freeways. They grab the attention of the thousands of cars that travel the freeway everyday. it is like a billboard but without the monthly rental fees. The large vinyl banners will last more than a year so it equates to just pennies every day for a year's advertising that bring results. Your local Las Vegas sign banner store can assist you with more information.