Large banner signs Las Vegas are available by Las Vegas banner stores. These Vegas large vinyl banners can be custom printed to any size you like in full color. So full color means you can have as many colors on the banner as you like. Also you can have images and pictures printed on the big banner signs as well.
Big banners are very popular at the trade shows and conventions in Las Vegas. So many times a company will come into Las Vegas and hang very large banner signs at the display booths. Also above there display booths to get the attention of people attending the conference. So large 10ft tall x 50 feet wide banners are common place at these events. These large banners are very easily recognizable and will get your company distinguished from the competition.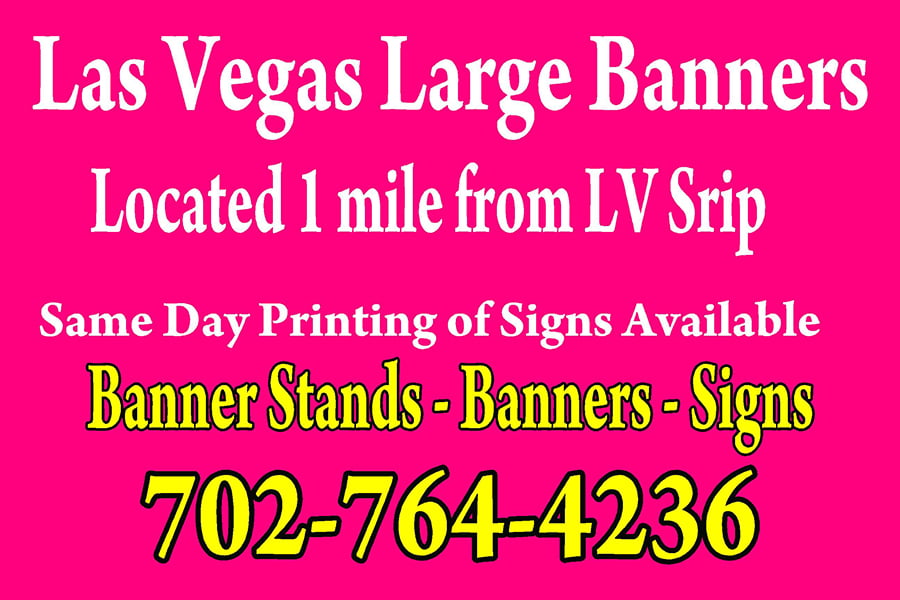 How Are Large Banner Signs Las Vegas Made ?
Big vinyl banners are printed on large format printers. So these large printers are state of the art and very fast printing. The speed at which the banner prints is important. Because the price of banner printing has actually gone down over the last several years. The more vinyl banner printing you can do drives the cost of printing down. The inks used are environmentally friendly and ecologically sound. So no more harsh ink chemicals. The vinyl banners are printed on a 13 ounce vinyl banner material. So after printing, the banner is then hemmed for reinforcement of the perimeter. So then grommets are placed approximately every two feet so that the banner can be displayed easily. The banners can be attached to buildings or fences and also strung up with rope.
Step and repeat banners are also available in large banner sizes. The tow most popular sizes are the 8ft x 8ft step and repeat banner and the 8ft by 10ft step and repeat banner.