Exhibit show banners Las Vegas will lead you to those vinyl banners needed for your event or show. Las Vegas exhibit banners and Las Vegas exhibition signs are needed for the many events and shows held in Las Vegas. people do not realize that Las Vegas is the King of events and shows. Millions of people come to Las Vegas yearly for these events. So many signs and banners are needed. So there are many sign company Las Vegas that service the event and show industry.
Many different types of sign are needed for these events. The retractable banner stands and table cloth signs seem to be very popular types of signage. The table cloth cover signs are made to cover those ugly six foot or eight foot tables at the conventions. These tablecloth signs are designed to be any color and can have multiple colors printed on them. So also pictures and images like logos and products can be printed on the table cloths.
Las Vegas banners are extremely popular at events and shows. Vendors and companies like these tradeshow banners because of their price and flexibility. The banner signs can be custom printed to any size and color. So the banners are cheap in price and can simply be used for one event or saved and used over and over.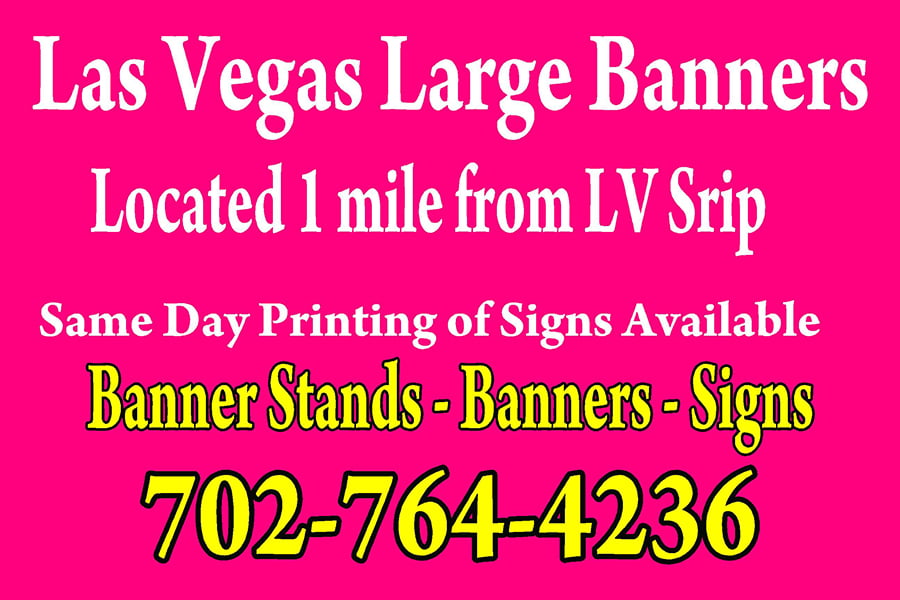 Same Day Exhibit Show Banners Las Vegas Are Possible
Same day banners are an option in Las Vegas. Many vendors and companies come into Las Vegas and forget their signs and banners. As a result, many sign shops offer same day banner printing. So while large format printers print very fast. Sometimes it is necessary to put off other work to be able to print the rush order signs. if this is the case there might be a slight up charge for postponing other work. but Las Vegas sign shops have extra capacity,. So there might not be any rush fee at all.